It's not the Tour de France, but for John Hackman, it's close.
Hackman, a Lawrence resident and 2003 graduate of Rockhurst High in Kansas City, Mo., will race in the Tour de l'Abitibi in and around the Canadian city of Val-d'Or, Quebec, starting Monday.
If the race name doesn't ring a bell, just consider it the junior North American equivalent of the Tour de France. The seven-day, eight-stage race covers almost 600 kilometers and features time trials, road races and criteriums, which are grand prix style races on a short track and last about half an hour.
Oh yeah, the 35th annual l'Abitibi is the only Junior World Cup race in this hemisphere. The rest are in Europe and Asia.
It's big-time, to say the least.
"It's a good opportunity for John," said Bill Marshall, one of Hackman's teammates on the Kansas City-based Team X Cycling.
"To be able to go to something like this is great. He's at an age where he's not necessarily in his prime, but he's getting his name out there and meeting the right people."
Hackman, who qualified by virtue of his performance at the South Central Regional Camp in Texas last month, left with six other cyclists and coach James Karthauser for Wisconsin, then Canada earlier this week to prepare for the race.
They stopped around Milwaukee for a series of regional races and will take another three days to travel to Val-d'Or, roughly 250 miles north of Ottawa, or about 1,500 miles from Lawrence.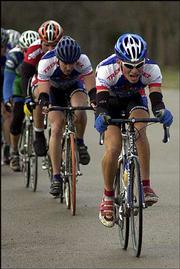 "Ideally, we get to travel a bit, then get out and ride," Karthauser said. "You know, riding in a van all day is hard on the legs if your planning to bike."
This isn't the first time Hackman will travel with Karthauser, either.
The two went to Germany last summer and competed in weeks of races, which was part of the reason Karthauser made Hackman the team captain for l'Abitibi.
"He traveled with me to Germany last year and saw him compete there," Karthauser said. "He's basically me on the road. I'm the coach, but I can't be out there riding, so he tells them what to do and they do it."
Karthauser also thinks Hackman, who stands about 6-feet, 175 pounds, can excel in the flatlands of Northeast Canada.
"It's gonna be his style of racing," Karthauser said. "He's a big guy so he can ride hard on flat road, go to the front of a group and chase down the breakaways."
Marshall thinks l'Abitibi should help Hackman prepare for what could be a promising career in cycling. Hackman, who is only in his second year of serious competition, plans to race full-time in California next fall. He's rated a level 2 rider, with 1 being a professional and 5 a beginner.
The jump to the next level will be big, but it's one Marshall thinks Hackman can make.
"The biggest thing for John is he's got a lot to learn," Marshall said. "He's got to learn when racing as a team and step into whatever role he needs to."
As far as Mike Vickers is concerned, Hackman is well on his way.
Vickers, who owns Star Signs & Graphics Inc. and also is a Team X member, has watched Hackman progress to a strong, able rider and wouldn't be surprised to see him excel.
"I have a lot of admiration for someone who's 17 and can be as dedicated as he is," Vickers said. "He's exceptional in that regard. There's just a few people his age that have that focus."
Copyright 2018 The Lawrence Journal-World. All rights reserved. This material may not be published, broadcast, rewritten or redistributed. We strive to uphold our values for every story published.