Sam Billison is used to the question. It comes up whenever he talks to groups about his World War II experiences as a Navajo code talker.
"It seems like someone always asks why we fought for our country -- a country that did so many harsh things to our tribe and to Indian people," said the 78-year-old Billison, who is president of the Navajo Code Talkers' Assn.
"I explain that Indian people have a long history of defending their country," he said. "We feel it is our duty to defend our tribe, our land and our country. We feel that North America is our country -- we call it Mother Earth -- and when it is threatened, it is to be defended."
Billison will take part in a panel discussion on the code talkers' experiences Sunday in the "Memory Tent" outside the Dole Institute of Politics on Kansas University's west campus.
He'll be joined by Samuel Tso, of Lukachukai, Ariz., also a Navajo, and Charles Chibitty, of Tulsa, Okla., the last living member of the Comanche code talkers.
The discussion, expected to last an hour and 15 minutes, begins at 2 p.m.
During World War II, Navajo and Comanche radiomen were used because their native languages could not be understood by Japanese and German code breakers.
The Navajo language has neither an alphabet nor a numbering system; instead, it relies on inflection and guttural sounds. The Comanche language lacked many words used in military settings, so "tank" became "turtle," "bomber" became "pregnant airplane," and "machine gun" became "sewing machine."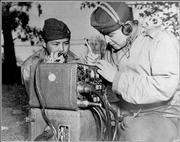 Adolf Hitler became "posah-tai-vo," which means "crazy white man."
Navajo code talkers were used in the Pacific Theater; Comanches were in the European Theater.
Billison and Tso were at Iwo Jima; Chibitty sent the first message on D-Day. Chibitty attended Haskell Institute in 1938-39.
Michael Tosee, who teaches 20th century American Indian history at Haskell Indian Nations University and who oversees the university's Oral History Project, said he hoped Chibitty, Tso and Billison would have time to tour Haskell and be interviewed.
"What the code talkers did was really amazing," Tosee said. "According to the history books, the (Navajo) code talkers sent something like 800 messages at Iwo Jima without making any mistakes. They were extremely important during the sieges at Iwo Jima, Tarawa, Okinawa and Guadalcanal.
Tosee said that after the war, many of the Navajo code talkers returned to their reservations in Arizona, New Mexico and Utah, where, at the time, they still were not allowed to vote.
"Back then, Indian people were not regarded as citizens, they were considered wards of the state who were incompetent -- because they were incompetent, they weren't allowed to vote," Tosee said.
Despite this and other injustices, Tosee said, the percentage of American Indians who enlisted in the military exceeded all other minorities.
"Out of a total population of 360,000 Indians, 25,000 enlisted in the military -- that was the most per capita of any ethnic group," Tosee said. "The number would have been higher if it weren't for health-related issues that came with growing up on the reservations, and those who were kept out because of illiteracy."
Archie Hawkins, 77, plans on attending the code-talker session.
"I remember reading something about them in Yank Magazine -- that the Marines had recruited them and that they'd been successful in confusing the Japanese because no one could understand their code."
At the time, Hawkins, an Ogallala Sioux, was a gunner on a B-25 that flew missions over India, Burma and China.
Asked if he'd considered being a code talker, Hawkins replied, "No, I'm not a fluent speaker (of the Sioux language). We were forbidden from speaking it in school and my parents wouldn't speak it at home because they didn't want us to know it and get in trouble. They wanted to protect us."
Now retired, Hawkins taught in the vocational department for 30 years. He lives in Lawrence.
Copyright 2018 The Lawrence Journal-World. All rights reserved. This material may not be published, broadcast, rewritten or redistributed. We strive to uphold our values for every story published.