A "Flying Fortress" at the Lawrence Municipal Airport transported Dave Downing back to World War II and a favorite childhood war movie.
"When I was a kid I saw 'Twelve O'Clock High' with Gregory Peck," he said Tuesday as he marveled at the B-17 bomber at the airport. "That was about pilots who flew B-17s."
A Boeing-built B-17, like those featured in the 1949 Academy Award-winning film, is one of more than 20 World War II-era aircraft that will be displayed Sunday through Tuesday at Lawrence Municipal Airport. Downing got a sneak peek at the B-17 Wednesday during the Lawrence Chamber of Commerce's Business After-Hours Mixer.
The B-17 is one of the best-known bombers of the war, according to the Air Force Museum. With 13 machine guns and a bomb load of 6,000 pounds, it was used in World War II theaters, but was best-known for daylight strategic bombing of German industrial areas.
The B-17 at the airport belongs to the Lone Star Wing of the Commemorative Air Force out of Marshall, Texas. Other planes in the display will come from as far as Maryland, Illinois and Florida. They include an AT-6 Texan, B-25J Mitchell, C-47 Skytrain, Grumman F6F-5 Hellcat and Republic P-47D Thunderbolt.
Organizers of the Dole Institute of Politics dedication approached Lloyd Hetrick of Hetrick Aviation Services with the idea of the static display as another way of honoring veterans.
"The reason they did it was to show tribute to the pilots that flew in the war," he said.
The display will open to the public from 9 a.m. to 8 p.m. Sunday, 11:30 a.m to 8 p.m. Monday and 9 a.m. to 3 p.m. Tuesday. Public parking will not be available at the airport and guests are asked to take a free shuttle that will make stops every 15 minutes at the Dole Institute of Politics, Bismarck Inn at 1130 N. Third St., and I-70 Business Center at 1035 N. Third St.
The planes also will participate in the ConocoPhillips Air Parade at 10 a.m. Monday over the Campanile and Memorial Stadium. The parade will be broadcast on the video board at the stadium. During the air show, the shuttle will run only from the Dole Institute to the stadium.
Hetrick said Sunday would be the best day to see all the planes because many would leave after the parade. He expects between 1,000 and 2,000 people to attend the display Sunday.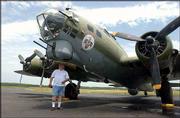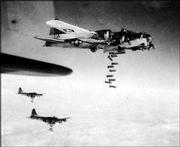 Copyright 2018 The Lawrence Journal-World. All rights reserved. This material may not be published, broadcast, rewritten or redistributed. We strive to uphold our values for every story published.