Lawrence barber appointed to state board
Lawrence barber and longtime public figure Mike Amyx has been appointed by Gov. Kathleen Sebelius to the Kansas Board of Barbering.
Amyx, owner of Amyx Barber Shop at 842 1/2 Mass., was appointed to a three-year term. The shop has been in the family since 1942, and Amyx has been a licensed Kansas barber since 1975.
He served as a Douglas County commissioner from 1988 to 1993. Prior to 1988, he had been a Lawrence city commissioner since 1983.
Amyx has served before on the Board of Barbering, holding the chairmanship from 1993 to 1996. The board licenses barbers.
Enrollment
More students pay early to ride school buses
The deadline for early enrollment for the Lawrence Pay To Ride program has passed, and school officials say the numbers are up from last year.
The program that charges children living fewer than 2.5 miles from their school to ride the bus began last year, but according to Rick Gammill, director of special operations, more than 500 students signed up before Tuesday's early enrollment date.
"It seems like more people are accepting the Pay To Ride Program than last year," Gammill said.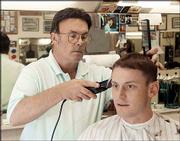 Students still can sign up for the program throughout the school year, but fees are higher for those who missed the early enrollment deadline. Fees are $130 per semester or $260 per year, about $1.49 per day.
By the end of the past school year, nearly 2,000 students were riding the bus. Students living 2.5 miles or more from their school are not charged for busing service, but they are still required to sign up through Laidlaw Transit Inc.
Parks
City band to present children's concert
The Lawrence City Band will play music especially for children today at its South Park concert.
The show, conducted by Robert Foster, begins at 8 p.m. at the park gazebo and features selections from "Mary Poppins" and "The Sound of Music" with vocal soloist Cathy Mallett, as well as music from "Beauty and the Beast."
The program also includes "Them Basses" by Getty H. Huffine, "Light Cavalry" by Franz von Suppe, "Faces of Kum Ba Ya" by John Zdechlik, and "Cheerio" and "Children's March" by Edwin Franko Goldman.
Lawrence City Band concerts are sponsored by Lawrence Parks and Recreation with assistance from the Rice Foundation. Concerts are broadcast on KLWN-AM 1320.
Fund-raiser
Clinton Lake Museum seeks money to expand
Money raised at a Saturday fund-raiser will help the Clinton Lake Historical Society expand the Clinton Lake Museum.
The event begins at 7 p.m. Saturday in the courtyard of the museum, on the west side of Clinton Lake near the town of Clinton. Music and refreshments will be on tap, and donations will be accepted.
The proposed expansion would make room for several exhibits now in storage, a kitchen, restrooms and a community meeting room with a connecting deck with a view of the lake.
The historical society's board of directors is looking for people interested in serving on building and fund-raising committees. For more information, call the museum at (785) 748-0800.
Copyright 2018 The Lawrence Journal-World. All rights reserved. This material may not be published, broadcast, rewritten or redistributed. We strive to uphold our values for every story published.