Don Fambrough's cup runneth over with Kansas University football memories. Yet his cup has room for Bob Dole, too.
Fambrough was a KU football player, assistant coach and head coach during five decades. When it was all over at the age of 60, Fambrough spent the remainder of his working years as a field representative for the U.S. Senator from Kansas.
"The thing I looked forward to," Fambrough said, "was when he came back to Kansas. I'd meet him at the airport and we'd go out into the state, mostly in the western part."
Fambrough, who turned 80 in October, will be on hand for Dole's 80th birthday celebration July 22 in conjunction with the opening of the Dole Institute for Politics on the Kansas campus.
From late 1983 until early 1987, Fambrough drove a conversion van labeled with the words "Senator Robert Dole" and "Mobile Office" around the state, listening mostly to farmers talk about everything from drought to interest rates to government intervention.
Often Fambrough would give a speech, sometimes as impassioned as the locker room diatribes he delivered to KU football players during his two stints (1971-1974 and 1979-1982) as the Jayhawks' head coach.
"They wanted Dole to attend everything," Fambrough said, "so sometimes I would go and represent him."
He was the only direct link between many Kansans and their senator. Dole maintained offices in Wichita, Topeka, Kansas City and Parsons, so Fambrough basically covered the entire state west of U.S. 81.
Report Back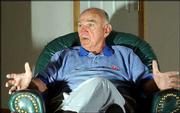 Fambrough would report what he heard from Dole's constituents to his office back in Washington, D.C., two or three times a week. But what he enjoyed most were Dole's visits to the Sunflower State.
"Just listening to him talk to people and being around him gave me a thrill," Fambrough said. "He had a way with people, and I'm sure he still does."
Morris Kay, a former KU football player and former Republican candidate for governor, touted Fambrough to Dole who was enthusiastic about the notion of having a well-known Kansan working for him.
"I was searching for someone with high visibility who is popular and dedicated," Dole said at the time. "Don Fambrough is that person. He represents the essence of Kansas -- warm, friendly and caring."
Yet if it weren't for World War II, Fambrough may have wound up representing the essence of his native Texas on his way to becoming a member of what has come to be known as the "Greatest Generation."
"I don't know who named us that," Fambrough said. "But I do know the war changed my life. I didn't even know where the University of Kansas was located. It was the greatest thing that ever happened to me."
Don Preston Fambrough, a sophomore offensive lineman from Longview, Texas, played for the Longhorns against Georgia Tech in the 1943 Cotton Bowl. Fambrough earned a letter for that 1942 season, but he never played another down for the 'Horns.
Off to Induction
"Most of us didn't go back to school after that Cotton Bowl," Fambrough recalled. "We all knew we'd be drafted, so we all enlisted. I joined the Air Force because I had this bug up my butt that I wanted to be a pilot. I don't even know if I had ever flown before."
Before he knew it, Fambrough found himself at an Air Force base near Ada, Okla., where he attended flight school in the mornings at East Central State University and flew with training instructors in the afternoons.
Finally, the day arrived when Fambrough was given his first opportunity to sit behind the stick of a trainer and fly the aircraft all by himself. Fambrough thought his first solo flight went well. His instructor had a different opinion.
"He burst my bubble," Fambrough said. "He told me if I was going to be a fighter pilot it was OK if I killed myself, but he said he was afraid I might end up killing a crew. ... I was that bad a pilot."
Not long thereafter, Fambrough was sent to Second Air Force headquarters in Colorado Springs, where about 180 former college football players -- many no doubt pilot washouts like Fambrough -- were put under the auspices of a coach named Red Reese who separated the wheat from the chaff and fashioned a football team that would represent the Second Air Force against other branches of the services.
Football First
Thus Fambrough spent most of his three-year hitch in the Air Force playing football.
"We went to Puerto Rico a couple of times where we taught crews how to ditch and survive in the ocean," he said. "Then we'd come back and travel all over and play 16 or 17 football games."
While with the Second Air Force football team, Fambrough became friends with Ray Evans, a Kansas University All-American who, like him, had left college during his sophomore year to join the Air Force. That friendship led to Fambrough enrolling at KU after he was discharged in 1946.
Except for three years as an assistant coach at East Texas State (1954-56) and one as an aide at Wichita State (1957), Fambrough has been in Lawrence ever since.
Shortly after Del, his wife of 60 years, died in the fall of 2001, Fambrough moved from a larger house close to the campus where they had lived for more than 20 years. Today he lives in a modest ranch house not too far from West Junior High. He remains active. Tuesday, for example, he cut the grass during the morning heat. Also, he's a regular at KU practices during football season.
He's No Hero
While he will attend the Dole Institute ceremonies, Fambrough wants to make sure everyone knows he was no World War II hero. He was never wounded -- physically anyway -- like Dole was during combat in Italy.
"Bob Dole is the hero, not me," Fambrough said with emphasis. "He's the one who got shot all to hell."
Copyright 2017 The Lawrence Journal-World. All rights reserved. This material may not be published, broadcast, rewritten or redistributed. We strive to uphold our values for every story published.