In the summer, John and Karen Pendleton's family sometimes sits down to a dinner made up entirely of one thing.
"When it's sweet corn season, we'll have meals when we don't have anything but sweet corn," says Karen Pendleton of Pendleton's Country Market, 1446 E. 1850 Road.
"People think we're so healthy because we grow all this produce. But we're always working, and we don't have much time to cook, so we eat very simply. There's nothing better than boiled corn on the cob."
Many others would agree with her.
If summer has an official taste, it's the taste of sweet corn -- grown locally and purchased at the peak of flavor. So easy to prepare, so easy to serve. It's a dish that's almost universally loved and always met with smiles.
Sweet corn is just a part of growing up in the Midwest, a staple of countless picnics and family get-togethers.
"Most people that are my age have memories of eating it. You went to grandma or grandpa's house, and they usually lived on a farm and you got fresh sweet corn," says Mary Ross of Bismarck Gardens, located at Nunemaker-Ross Farms, 1616 N. 1700 Road.
"But there's fewer and fewer farm families these days, and people miss that taste. That's why we decided there's a market for it."
Indeed there is.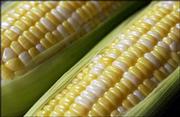 Plenty of people in the Lawrence area make special trips to places like Pendleton's, Bismarck Gardens or the Farmers Market in the 1000 block of Vermont Street to buy ears of sweet corn.
"It's one of the things that people come in for," Pendleton says. "They come for the specialty things like the asparagus in the spring and corn and tomatoes in the summer. Those are types of vegetables that really make a difference when they're locally grown and fresh."
It would be difficult to find someone who would turn down an ear of sweet corn.
"I think it's a flavor that most everyone likes. I don't know of anyone that doesn't like sweet corn. It's just traditional Midwestern food," Ross says.
Yellow and white varieties
It is the heart of sweet corn season, which typically runs from the early July through the first week or two of August.
After that, it just gets too hot and the weather starts to affect the crops.
Those who grow sweet corn in the area report that things are going well so far and that crops are looking healthy and yielding well.
"It's been a real good year, we've had lots of rain, just enough at the right time to make everything grow real good. It's been halfway cool," says Randy Farley of Lakeview Gardens, located northwest of Lawrence at 1886 E. 1150 Road.
"Usually about the Fourth of July the seasons starts, and it goes through August, but it gets so hot later on that it doesn't mature right."
It's not a particularly difficult crop to cultivate.
"Growing it is the easy part. The picking's the hard part. I pick it, and my son and daughter help. Every three or four days, we're out there, picking it by hand," says Farley, who grows a variety of fruits and vegetables on about 10 acres of land, a couple of acres of which are planted with sweet corn.
He sells his corn for $3 per dozen ears, both at the Farmers Market and at Lakeview Gardens. Farley offers two varieties, Bodacious, a yellow corn, and Silver Queen, which is white.
Both are nice and sweet.
"It's going real good -- we're selling a bunch of it," Farley says.
Fresher and sweeter
Bismarck Gardens is probably the king of sweet corn producers in the area.
The business, in its 21st year of operation, has about 30 acres of it under cultivation. Aside from that, there are 35 acres of other vegetables and 3,000 acres of corn and soybeans for livestock consumption.
Every year, the Rosses try one or two new varieties of sweet corn, like Calico Bell, a sugar-enhanced hybrid that's developed to be even sweeter than usual.
They sell their sweet corn at the farm. It goes for $4 per dozen, or $3.50 per dozen if you buy five dozen or more.
"We've had a lot of repeat customers. Most of them are from Lawrence, but we have a lot of people from Tonganoxie and Kansas City. Most people buy five dozen and take some to neighbors, friends or family," Mary Ross says.
Jerry and Jane Wohletz grow sweet corn on a smaller scale. They have 20 100-foot rows of it on their 80-acre farm, located at 1831 N. 1100 Road.
This is their first year selling sweet corn at the Farmers Market. They also sell it at their farm. The price at both locations is $3 per dozen.
It's one of the Wohletz family's favorite foods.
"I just eat it on the cob. But people will take the kernels off and freeze it to have that fresh corn taste all throughout the year," Jane says.
"To me, it's just summer -- eating it off the cob, or right out of the garden. We don't even cook it. It's fresher and sweeter that way. It's perfect."
Copyright 2018 The Lawrence Journal-World. All rights reserved. This material may not be published, broadcast, rewritten or redistributed. We strive to uphold our values for every story published.