A manufacturer in the East Hills Business Park has chosen Lawrence over Lenexa for a relocation project that will add 18 new jobs.
Officials with API Foils Inc., 3841 Greenway Circle, said Tuesday they were closing a Lenexa distribution and processing facility and moving its 18 workers to Lawrence.
The jobs will include warehouse, sales, marketing and information technology positions. Officials said an estimated 20 percent of the Lenexa workers had decided not to transfer to Lawrence, so API will hire for those positions. Average salaries for the jobs range from $10 to $20 an hour, depending on the position.
The project will increase the Lawrence plant's work force by about 30 percent, raising the total number of workers at the plant to 78.
API's announcement came one day after Honeywell International Inc. announced it was closing its Lawrence plant and moving all 189 jobs to Olathe by the end of the year.
"We're very pleased with API's decision," said Lynn Parman, vice president of economic development for the Lawrence Chamber of Commerce. "It comes at a good time for the city."
Bruce Ackerman, a spokesman with API, said the company was looking for ways to consolidate its operations to improve efficiency.
"There were too many steps in the old process," Ackerman said. "This is a step-reduction project. There were too many people driving back and forth from Lenexa to Lawrence."
Ackerman said the company, which manufactures hot stamping foil used in a variety of packaging and greeting cards, decided to expand in Lawrence because the company owns the East Hills plant. It leases the Lenexa building. It also was easier for the company to move its distribution operations than its manufacturing equipment.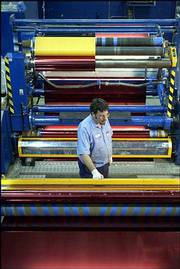 The move is expected to be complete by the end of September. There are no immediate plans to expand the Lawrence facility, but Ackerman said company officials soon may begin evaluating that possibility. The company, which has had a Lawrence plant since 1995, is leasing about 10,000 square feet of space in the Star Signs building at 801 E. Ninth St. to accommodate some of the new employees.
Parman said she was optimistic the API project was the beginning of several significant expansions by existing Lawrence businesses.
"I would say that usually when there is a recession, or times are tough, businesses look to expand their existing facilities instead of building new plants," Parman said. "I'm optimistic about the future because I know we're very busy on working with companies thinking about expanding. We're much busier than we were last year."
Parman declined to name any companies that may be considering expansion.
Copyright 2018 The Lawrence Journal-World. All rights reserved. This material may not be published, broadcast, rewritten or redistributed. We strive to uphold our values for every story published.