Miami Beach, Fla. — Three of the Democrats' nine presidential contenders drew the wrath of the president of the NAACP Monday for skipping the group's candidate forum, reflecting a growing sentiment among blacks that their loyalty to the Democratic Party is being taken for granted.
The six Democratic presidential hopefuls shared the stage with four empty chairs, each labeled with the name of a White House candidate who didn't make it. They were President Bush and Democrats Joe Lieberman, Dick Gephardt and Dennis Kucinich.
While Bush's absence wasn't a surprise -- he hasn't attended NAACP conventions since taking office -- the group's leaders were outraged at the Democratic no-shows.
"In essence, you now have become persona non grata," NAACP President Kweisi Mfume said of the Democrats who passed on the event. "Your political capital is the equivalent of confederate dollars."
The party is off to a somewhat rocky start with minorities in this election cycle. Black party leaders were furious when the Democratic National Committee planned to lay off 10 staffers this spring, and all were black. The DNC backed off that plan and has been working with the Congressional Black Caucus to ease tensions.
Blacks have been a loyal constituency for the Democratic presidential nominee in recent elections. In 2000, Al Gore captured 90 percent of the black vote to George W. Bush's 9 percent, one of the lowest percentages for a Republican in decades, according to exit surveys. Bill Clinton got more than 80 percent in his two Democratic presidential campaigns.
Sen. John Edwards of North Carolina initially planned to skip the forum, but changed his mind Sunday night after being criticized by NAACP leaders. Sen. John Kerry of Massachusetts planned to attend the convention but was trying to negotiate an appearance separate from the other candidates who were attending -- Sharpton, Sen. Bob Graham of Florida, former Vermont Gov. Howard Dean and former Illinois Sen. Carol Moseley Braun.
Kerry also agreed to join the forum after Edwards did, allowing both to escape Mfume's verbal lashing Monday.
Former House Minority Leader Gephardt, D-Mo., said he couldn't make it because of a prior family obligation. Lieberman, a senator from Connecticut, said he had campaign events in New York, and Kucinich, the Ohio representative, said he wanted to be in Washington for votes in the House.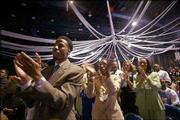 Copyright 2018 The Associated Press. All rights reserved. This material may not be published, broadcast, rewritten or redistributed. We strive to uphold our values for every story published.