Joliet, Ill. — Ryan Newman's gamble paid off. Kevin Harvick's didn't.
Newman and an empty gas tank spoiled Harvick's bid for three straight Chicagoland Speedway victories, with Newman pulling away at the end to win the Tropicana 400 Sunday.
Newman and Harvick both pitted to top off their tanks on lap 198 of the 267-lap race, hoping to stretch the fuel to the end. Newman made it, and Harvick didn't.
Newman got out of the pits first and took the lead for good on lap 210 when the drivers ahead of him all pitted under caution. Harvick worked his way to second on lap 225 and was close behind when the green flag waved on lap 240 for a restart following the last of seven caution flags in the race.
Harvick is one of only four drivers who have won the first two races at a new track since NASCAR's modern era began in 1972, but he couldn't catch Newman's Penske Racing South Dodge.
Newman kept edging ahead, moving out to a lead of more than a second before Harvick's Richard Childress Racing Chevrolet suddenly slowed three laps from the end.
"He had a fast race car, and I was really worried about him until he ran out of gas," Newman said. "I got out there in the clean air, and that was pretty much the biggest thing."
Tony Stewart, who started from the pole, inherited second place, but was unable to challenge for the lead and finished 3.177-seconds -- about 20 car-lengths -- behind Newman.
Hendrick Motorsports teammates Jimmie Johnson and Jeff Gordon finished third and fourth as Harvick made a quick stop for a splash of gas and finished 17th, a lap down at the end.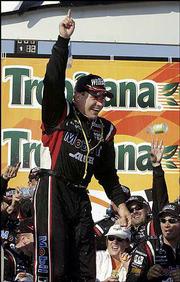 Copyright 2018 The Associated Press. All rights reserved. This material may not be published, broadcast, rewritten or redistributed. We strive to uphold our values for every story published.