Newport, R.I. — Boris Becker looks like he still could be out on the court, contending for titles.
Instead, he's enjoying retirement, and Saturday he became the second-youngest person inducted to the Tennis Hall of Fame.
Becker never considered a comeback, even after watching Martina Navratilova win the Wimbledon mixed doubles championship at age 46 last weekend.
"For me, if I was to imagine coming back after 11 years and wearing shorts -- I don't think they would have shorts big enough," the 35-year-old Becker said. "When I retired in 1999, I left for good. I couldn't imagine coming back."
Bjorn Borg was the youngest Hall of Famer, inducted at 31 in 1987.
Becker entered the Hall along with Francoise Durr, Nancy Richey and Brian Tobin. It's appropriate that the induction ceremony took place on a grass court, because that's the surface where Becker made his mark.
He won Wimbledon three times, doing so first in 1985 at 17, making him the youngest player to take the title at the All England Club. The German also was the first unseeded man to win there.
"Defending it in 1986 might have been my most important Grand Slam victory," he said. "I couldn't imagine when I was a little boy winning Wimbledon at 17 and 18."
He also won Wimbledon in 1989.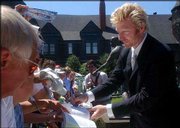 His six career major titles include two at the Australian Open (1991, 1996) and one at the U.S. Open (1989).
But Becker never won the fourth Grand Slam tournament: the French Open.
"That was the only one I didn't win," he said. "I was in the finals a couple of times, but that doesn't count. You have to win."
Copyright 2018 The Associated Press. All rights reserved. This material may not be published, broadcast, rewritten or redistributed. We strive to uphold our values for every story published.