High above the playing floor of the sold-out college basketball arena, Sister Paula of the Protection of the Virgin Mary Convent had to be praying for a miracle.
All she wanted was to remain invisible.
Draped from head to toe in a black habit, she hardly melted in with the upper-deck crowd of frat boys, sorority girls and rabid alums.
It didn't help that she stood 6 feet, 2 inches.
A 29-year-old novice nun still feeling her spiritual way, Sister Paula had come all the way from her convent in western Canada for a halftime ceremony to retire the jerseys of two Kansas University women's basketball players.
One belonged to Tamecka Dixon, two-time conference player of the year and a star guard in the Women's National Basketball Assn.
The other jersey that would go up on the wall of honor in storied Allen Fieldhouse, alongside those of Wilt Chamberlain, Lynette Woodard and Danny Manning, also was worn by a former conference player of the year.
It belonged to Sister Paula.
Or Angela Aycock, as she was known at Kansas and back home in South Dallas.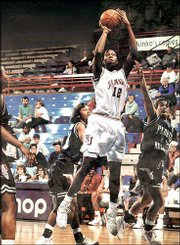 Sister Paula didn't want to be there. She didn't want to give up her days and nights at the convent devoted to prayer. She and her skeptical abbess had to be talked into it through weeks of delicate negotiations.
In the end, it was agreed that Sister Paula would attend if she remained in the shadows, attracting no attention.
So when Angela Aycock's No. 12 jersey was honored in February, the announcer informed the roaring crowd of 16,300 that she could not participate in the ceremony because of religious obligations.
The announcer did not point out that in an upper-deck portal, Sister Paula was watching in silence.
No intrusions
Sister Paula was relieved, she later told her former Kansas coach who had demanded her presence, that not a single soul had intruded on her 15 minutes.
Her only public comment came in a news release issued by the school.
"God willing," she was quoted as saying, "many more young women will be inspired and challenge themselves as well as others not to limit themselves, but strive for excellence in all things."
Soon after the ceremony, Sister Paula was off to the next stop on her journey -- a visit to a convent in West Virginia.
There Sister Paula divided her time between prayer and diligently making chotki, the prayer rope fingered by Russian Orthodox Christians in silent devotion.
Just what inspired a black, Baptist-born, former All-America basketball player to walk away from her game to seek a monastic life in the ultra-traditional Russian Orthodox Church Outside Russia, Sister Paula won't explain.
She refuses to talk publicly.
Anything she says would attract unnecessary attention, violating her desire to achieve absolute humility, an important element in any monastic life.
"I'll tell you this, Angela's has been such an unusual journey," said Marian Washington, the Kansas coach for 30 years who would not hold the ceremony without her.
The bond established when the coach recruited the All-America player from Dallas' Lincoln High in 1991 has remained strong.
When Aycock played in the American Basketball League and the WNBA and traveled overseas to compete professionally in Italy, Greece, Spain, France and South Korea, the telephone was their umbilical cord.
They talked for hours. Early on, the conversations were primarily about Angela's game and the loneliness of the road. They evolved into sessions that focused on Angela's search for spiritual peace.
"Parts of her life have been a living hell," Washington said. "I know of nothing like Angela's story."
Frequently in trouble
In high school, she was tall, strong and blessed with a hurdler's powerful legs. She could play every position from point guard to center. And she could play every one of them better than most anyone. But she was undisciplined and frequently in trouble.
"She was rebellious; she'd fight with other girls and boys," said Tonya Aycock, Angela's older sister. "She skipped school. She was suspended from junior high for fighting."
Even basketball brought her little joy. Quiet and reserved with people she did not know, Angela had always been good at keeping her feelings locked inside.
In February 1991, as Angela's senior season at Lincoln was finishing, The Dallas Morning News assigned a reporter to profile the best player on the best team in the area. It was supposed to be a feel-good, happy tale about a young girl well on the road to success.
But reporter Debbie Fetterman found only a sad young woman who offered little more than cryptic remarks about a painfully unhappy existence.
There was one reference to her biological father. She said she rarely saw him. There was no mention of her mother, who had raised her in various Dallas housing projects.
At home, Angela and her mother, Teena, almost never saw eye to eye. Sometimes their arguments escalated into physical confrontations. Some nights Angela sought serenity in the suburban home of one of her AAU teammates -- Alana Slatter.
Slatter said Angela preferred not to talk about her home life in the "three or four days a week" they spent together throughout their high school years.
"She's a very guarded person," said Slatter, later a teammate at Kansas. "I don't know if she ever let any of her teammates in."
Stomach in knots
By the spring of her senior year, Angela, her stomach in knots, her nerves on edge, had to be admitted to a hospital for tests. No one remembers the diagnosis, but everyone remembers she had to wear a heart monitor for some time.
Washington won Aycock for Kansas at the 11th hour of the recruiting season.
Assistant coach Kevin Cook had been baby-sitting Aycock through the final days of the process in April 1991. He called from Dallas to tell his boss he had lost Angela to rival Nebraska.
She dropped everything and caught the next plane to Dallas.
Washington talked to Angela for hours, their first meaningful conversation beyond the baseline.
She found a recruit "with no confidence in any decision she was being asked to make."
Washington said she "worked hard" to help Angela "see what a beautiful person she was."
The coach said getting away from Dallas was the perfect tonic.
Happy times at KU
By all accounts Angela's four years at Kansas were a happy time, perhaps the happiest of her life.
Angela started every game as a freshman and averaged 10.3 points and 5.2 rebounds per game. She was named team captain as a sophomore. As a junior, she was the Big Eight Conference co-player of the year. As a senior, she averaged 23.1 points and 7.3 rebounds and made several All-America teams.
When a teammate needed extra practice time, it was always Angela who volunteered to stay and help. The All-American spent endless hours rebounding errant shots of benchwarmers trying to improve their games.
She helped Kansas recruit, always willing to show high school players around the campus and tell them why Kansas was the school for them.
When Lawrence's Jennifer Trapp chose to stay home to play at Kansas, Angela, two grades ahead, took her under her wing.
It seemed like an odd undertaking. The street-smart girl from the single-parent home in Dallas, helping to make the hometown hero, daughter of a local assistant district attorney and a dental hygienist, feel at home.
But Angela went out of her way to ease Jennifer's transition.
"Angela always helped her a lot," said Jennifer's father, Rick. "Angela was the team's spiritual and emotional leader. Jennifer always told us how much Angela meant to all the girls."
In lighter moments, Aycock, Tamecka Dixon and Charisse Sampson would entertain teammates with their impersonation of the Supremes. Always, Angela would step out of character and assume the brassy Diana Ross persona.
"I can't explain to you how much everyone liked her," said Koya Scott, a Plano East graduate who followed Aycock to Kansas and is now an assistant coach at Fordham University. "She was so very easy to talk to. She was a typical college kid except that she never did the dumb things typical college kids did."
Sense of guilt
Washington said that in addition to her basketball talent, Angela brought a tremendous sense of guilt to college.
"Young people like her feel guilty because they have such an opportunity. They ask, 'Why me? Why am I so lucky to be here when my family and friends aren't?' It's so hard for so many to see their futures when they are dragging their pasts."
Washington said she had to pay particular attention to Angela after she returned from trips to Dallas. The coach came to dread them.
"When she had a good trip, it carried over," Washington said. "But when she had a bad experience, she'd relive it and other bad experiences over and over. ... There always seemed to be an event. It wasn't like she could get through a year without something happening."
If Angela's high school and college careers were measured in headlines, her professional basketball career could be measured in agate -- the tiny type that reports players' comings and goings on waivers as well as free-agent signings.
"It was like Angie had other things on her mind," said Michael Abraham, the former Oregon State assistant, now an agent with a large clientele of WNBA players.
In two full seasons with the Seattle Reign of the American Basketball League, Angela averaged 6.4 points per game. She was enjoying her best season, averaging 8.7 points, when the league folded early in her third year in December 1998.
Puzzling play
It only got worse in the WNBA.
She was placed on the Minnesota roster in May 1999 ... traded to Phoenix in October ... and given to Seattle in an expansion draft in December. She played one game with Seattle in 2000 before the team waived her ... then was picked up by Minnesota and played three more games that season.
Her WNBA career statistics: 12 games, 43 minutes, 0.3 points per game.
Her play puzzled those who knew her best.
Renee Brown, the WNBA's vice president of player personnel, had been an assistant coach at Kansas.
"I'll never know why she didn't do better in the WNBA," Brown said. "I always wondered if she was simply afraid to do better."
Kevin Cook, who recruited Angela for Kansas, invited her to try out for the Houston Comets in 2001. The assistant coach called her in France, where she was playing for a second-division team in Reims, but she declined.
"By that time, she was searching for something higher than basketball could give her," Cook said. "She had lost the fire in her belly. It was time to move on."
The seminal moment during Angela's professional career, however, did not come on the court. It came at a house in Lawrence, early in the spring of 1998.
On a March morning, ex-teammate Jennifer Trapp, 23, put a gun to her head in her parents' home and pulled the trigger.
The suicide rocked the Kansas women's basketball program, which only the night before had held a banquet celebrating Marian Washington's 25th year at the school. Jennifer was there. Angela couldn't make it.
"I know Angela had taken Jennifer's death hard," said Jennifer's father, Rick, now the sheriff of Douglas County. "Angela wrote a poem for the memorial service. It moved us all."
What Sheriff Trapp didn't know was that on the night before she pulled the trigger, his daughter had phoned Angela.
"It doesn't surprise me," the father said, his voice a whisper.
Sister's pain
Tonya Aycock can still remember the pain in her sister's voice when Angela called to tell her of Jennifer's death.
"She told me she should have known," Tonya said. "She talked to her the night before. She should have known. She could have done something. It had such a terrible effect on Angie, such a terrible effect. She never talked much about anything. But she talked about this. It took a major toll."
It wasn't long before Tonya began receiving telephone calls with a different message from her sobbing sister.
"I'm ready for God to take me," Angie would cry into the phone. "I'm ready for God to take me."
The professional basketball landscape is far different for women than for men.
To supplement their incomes from the U.S. leagues, women often play overseas, where the money is better. But it comes at a price.
"The women are away from home, and loneliness becomes a huge factor," said agent Michael Abraham.
"Often, there is only one American on a team. The girls have no one to talk to. Very often the only other foreign player on a club team in Europe or Asia is an Eastern European player. There is little social interaction. No one you know sees you play. There is no gratification for playing other than the money. It can be a very lonely life. My guess is that when Angie was overseas, she kept mostly to herself."
Abraham estimated that a player of Angela's caliber earned up to $8,000 a month in Europe. He said he once negotiated $10,000 a month for her to play in South Korea.
Close to telephone
No matter where she played, Angela was never far from the telephone. Friends and family report similar conversations.
Washington said, "Most of what we talked about was the Bible and what God intends for us to do with our lives and how he helps us get through challenges. Very often we would get something to read and read it together. That way we could be miles apart and in the same place."
Tonya Aycock believes an interpreter assigned to her sister in Europe introduced Angela to the Orthodox religion. She said her sister became a frequent visitor to churches and cathedrals around Europe.
Angela loved the beauty she saw in Orthodox icons. She covered the walls of her apartment with them.
Father Dositheos, the Greek Orthodox abbot at the Monastery of the Holy Archangels in the Texas Hill Country town of Kendalia, thought it odd when he took Angela Aycock's call in 2001.
"I said, 'Wow, what's a basketball player doing calling me from France?'" he said.
Angela explained that she had been using the Internet to help her study Orthodoxy.
By this time, Angela was spending many of her waking hours deep in prayer.
"She told me there has to be prayers going on all the time," Washington said. "She said that if it weren't for prayer to combat sin, she didn't know where the world would be."
Found on Internet
It was about that time Angela turned her full attention to another church she had found on the Internet -- St. Nicholas Russian Orthodox Church.
Housed in a tiny white building behind All Saints Episcopal Church off Abrams Road, just south of Mockingbird Lane, the smallest Orthodox congregation in Dallas-Fort Worth, unlike its sophisticated Web site, is not easy to find.
Father Seraphim Holland, its pastor, said the church has about 30 regular parishioners, most of whom, like himself, are converts to Orthodoxy. Father Seraphim gave Angela a key to his church, where she spent countless hours alone in prayer.
Angela's family said she became so enthralled with Father Seraphim and his teachings, they didn't know what to expect when it came time to meet him at Angela's catechumen, her public acceptance of Orthodoxy, last summer.
All they really knew was that Angela had told them she would be leaving soon for a faraway convent.
She told them that she didn't know when she might see them again and that she would be dividing all her worldly possessions among them.
They knew, too, she would be taking a new name, Paula.
Sister Paula has since returned twice to Dallas. She came in February, driving down from Lawrence before the jersey retirement ceremony for a one-day visit. She returned for several days in April, staying mostly in her mother's apartment, while in the process of transferring to another convent.
She seemed different this time. More spiritual. More distant.
Washington comfortable
Washington is comfortable with Angela's decision but wishes Sister Paula could use her talents to work with children. Father Seraphim said that is not an alternative in his church.
When Angela left Dallas two months ago, she didn't give her sister a forwarding address.
The only indication Angela gave of what she believes is to come is when she told her sister, "This is the beginning of the end of time."
When they hugged for a final time, Angela squeezed so tight, Tonya is certain she knows what it meant.
"I don't believe we'll ever see her again," Tonya says. "But I really don't know what to believe anymore."
Copyright 2018 The Lawrence Journal-World. All rights reserved. This material may not be published, broadcast, rewritten or redistributed. We strive to uphold our values for every story published.