Chicago — Like just about everyone else around them in the upper deck at U.S. Cellular Field the other night, Jason Lukehart and his buddy Zak Thompson jumped to their feet when White Sox slugger Magglio Ordonez blasted a homer.
But as everyone else stood and cheered, Lukehart and Thompson were back in their seats, hunched over their scorecards, furiously making all the little marks that needed to be made before the next batter.
"Nobody's doing it," Lukehart, 23, said about keeping score. "It's like I'm in a special club."
It's certainly a small one. Tuesday, when more than 47,000 fans pack themselves into the same park for the All-Star game, it's a good bet only a handful will keep score -- and not just because all the player substitutions at that event will turn scorekeeping into a nightmare of tiny writing and scratched-out names.
Walk around any major-league park these days, and the once familiar sight of fans keeping score is about as common as a balk ("BK," if you're scoring).
"It's a lost, lost art," said Michael Babida, the San Diego Padres executive director of merchandising and promotions.
"People buy scorecards, but it's more as a souvenir," said Lena McDonagh, the Chicago Cubs' director of publications.
Scoring is given so little thought that some teams don't even bother to sell individual scorecards, choosing instead to include them in the glossy, more expensive programs. At least one team, Cleveland, hasn't bothered to sell pencils since 1994 when it moved into Jacobs Field.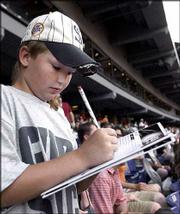 U.S. Cellular Field sells the 75-cent pencils, but they seem about as easy to unload as White Sox inflatable chairs.
At the game Lukehart and Thompson attended, part of a crowd of nearly 30,000, vendor John Kurpiel managed to sell just 30 of the 75-cent pencils to go with the 50 $1 scorecards that fans bought.
"Ten years ago, I'd sell 300-400 (pencils)," the 78-year-old Kurpiel said.
If you're looking for a place to point a big foam finger of blame, look no further than the ballparks themselves.
With everything from slides to batting cages, from speed-pitching machines to specialty cafes, ballparks have become theme parks.
"The whole atmosphere is really what we sell, and not just the team and who the players are, and whether they are winning or losing," said Mario Alioto, San Francisco Giants' senior vice president of corporate marketing.
It all adds up to trouble for scorekeeping.
"There's no use keeping score if you're going to miss an inning at the swimming pool or the batting cages," said Greg Salvatore, an intern with the magazine of the Arizona Diamondbacks, whose Bank One Ballpark features a pool in the outfield seats.
Then there are the huge high-tech scoreboards that have replaced the smaller and far less informative ones of years gone by.
"Everything is shown to you on the scoreboards," said Mac Clark, a 79-year-old retiree in St. Petersburg, Fla., who now sells on eBay a few of the scorecards he kept at Fenway Park in the days of Ted Williams and Bobby Doerr. Scorekeeping, he said, "isn't necessary anymore."
Nor does scoring games with a pen or pencil fit in an age of computers and Game Boys.
With its strange marks and symbols that haven't changed much since the father of "modern" scorekeeping, Henry Chadwick, came up with his system in the 1870s, scorekeeping isn't particularly inviting.
It also doesn't help that no two scorekeepers do things exactly the same. For example, while just about everyone uses "K" for strikeout, not everyone writes the "K" backward to indicate if the player took a called third strike.
"Everybody you talk to who does it has their own variation," said Paul Dickson, author of "The Joy of Keeping Score."
When Jim Gates, library director of baseball's hall of fame, heads to a game, a flyout is an "F." Unless it's a line drive, in which case it's an "L. A popup gets a "P," unless the ball was caught in foul territory, in which case it's an "FP."
For Norm Sachs, a 50-year-old accountant, it means that when he took his son to a recent White Sox game, he was the one keeping score and his boy was the one eating a hot dog and hoping for a foul ball.
"Kids don't have the patience," he said. "Just to get them to put the (players') names down is a tough sell."
Those who do keep score say they can't imagine just sitting and watching a game.
"It keeps your head in the game," said Thompson, 22. What is more important, he said, scorekeeping connects him to the history of the game -- a big reason why he is holding onto the scorecard from the White Sox-Giants game days earlier.
"It might be the one time I see Barry Bonds, and I can say this is when I saw him," he said.
Scorekeeping brings with it another reward. "You get some drunks" teasing those who keep score, he said. But when the pitcher starts piling up strikeouts, those same drunks are a lot more polite. "They're coming up to you asking, 'How many does he got now?'"
There are some signs that teams are doing what they can to keep scoring alive. The Giants make it easier to score by installing devices that allow fans with handheld computers to download scorekeeping software as well as updated rosters and statistics.
In Milwaukee, about a decade after doing away with stand-alone scorecards, the Brewers brought them back. At least one team, the Baltimore Orioles, is thinking about doing the same and the Los Angeles Dodgers are considering offering free scoring lessons.
One fan who won't be scoring again is Clark. "You keep score to look back on it years later," he said. "In my time, I'm not going to worry about it."
Copyright 2018 The Associated Press. All rights reserved. This material may not be published, broadcast, rewritten or redistributed. We strive to uphold our values for every story published.