Some of the Democratic presidential candidates will give a nod to the importance of black voters by speaking at the National Association for the Advancement of Colored People's annual convention, which starts Sunday in Miami.
Former Vermont Gov. Howard Dean, Sens. Bob Graham of Florida and John Kerry of Massachusetts, former Illinois Sen. Carol Moseley Braun and Al Sharpton have all agreed to appear Monday at a candidates' forum, NAACP officials said.
Rep. Dennis Kucinich of Ohio is unsure whether he will attend. Rep. Richard Gephardt of Missouri and Sens. John Edwards of North Carolina and Joe Lieberman of Connecticut each have decided not to go because of scheduling conflicts, members of their staffs said. President Bush, touring Africa this week, declined an invitation.
"We think those who come show by their presence that they're interested in these votes," said NAACP Chairman Julian Bond. "It's a perfect chance for them to air their opinions about what is a major concern of many, many Americans, and that's the state of race relations.
"We don't want platitudes," he added. "We want proposals and plans."
Dewey Clayton, an associate professor of political science at the University of Louisville, said candidates who were "seriously trying to attract the African-American vote" would go to the forum.
"There's clear discussion in the African-American community that the Democratic Party should not and cannot take the African-American vote for granted," said Clayton, who specializes in black electoral politics. "That doesn't necessarily mean that African-Americans are going to vote Republican. It just means they may not be motivated to vote at all."
A Joint Center for Political and Economic Studies poll last year found that younger black adults were increasingly more politically independent.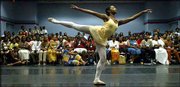 Copyright 2018 The Associated Press. All rights reserved. This material may not be published, broadcast, rewritten or redistributed. We strive to uphold our values for every story published.