Cleveland — Billy Traber was fast, focused and nearly flawless.
Traber pitched a one-hitter for his first complete game Tuesday night, leading the Cleveland Indians to a 4-0 victory over the New York Yankees, who didn't start injured infielders Derek Jeter and Alfonso Soriano.
Traber (4-5), whose only previous link to New York was as a Mets prospect, dominated a depleted Yankees lineup that struggled with the left-hander's offspeed pitches and unorthodox delivery.
"It was Greg Maddux-like," Yankees manager Joe Torre said of Traber needing just 2 hours, 11 minutes to shut out New York. "He didn't throw hard, but you don't have to when you throw strikes. When somebody throws soft, it frustrates you. But you certainly admire and respect it."
After yielding a leadoff single to John Flaherty in the third inning, Traber retired the final 21 in a row and 27 of 28. He walked none, struck out five and didn't allow a Yankee to reach second base.
Traber came very close to pitching a perfect game.
The 23-year-old Traber shook off rookie catcher Victor Martinez before throwing the 1-2 fastball that Flaherty lined cleanly into left field.
"Victor wanted a change-up," Traber said. "I threw it a little too far inside, and he got it."
Flaherty felt lucky to get the hit.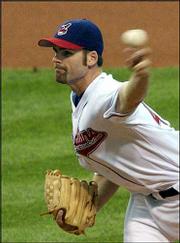 "With two strikes and it being the first time I've seen the guy, I had no idea what to expect. I was trying to hit it back up the middle, got jammed and was fortunate it got in there."
Matt Lawton homered, and Casey Blake had three hits off Jeff Weaver (4-7) as the Indians improved to 7-3 in their last 10.
Traber, who along with Lawton came to the Indians in the eight-player deal that sent Roberto Alomar to the Mets, was coming off his worst career start, allowing seven runs and 11 hits in 22/3 innings July 2 against Kansas City.
Mariners 6, Orioles 5
Seattle -- Joel Pineiro won his fifth straight start and Ichiro Suzuki hit a leadoff homer to lead Seattle past Baltimore, the Orioles 15th loss in 16 games at Safeco Field.
Pineiro (10-5), unbeaten in five starts since June 11, joined Jamie Moyer (11-5) and Gil Meche (10-4) as the Mariners' third 10-game winner. It's the first time three Mariners reached 10 wins before the All-Star break.
Pineiro, who left with a 6-1 lead, allowed five hits and four walks in six innings, lowering his ERA to 3.32.
Suzuki hit the second pitch by Jason Johnson (7-4) for his ninth leadoff homer, third this season. With eight homers, he's matched his totals for each of his first two years in the AL.
Devil Rays 9, Athletics 3
Oakland, Calif. -- Travis Lee had three hits and three RBIs, and Ben Grieve doubled and drove in two runs as Tampa Bay snapped a five-game losing streak against Oakland. Barry Zito, the reigning AL Cy Young winner, allowed a career-high 15 hits in 51/3 innings. He also matched a career high with seven runs allowed. The left-hander has been tagged for 35 hits in his last three starts, which include a win, a loss and a no-decision.
An 8-year-old boy watching the game suffered burns on one of his legs when a fan tossed an explosive device from the upper deck of Network Associates Coliseum. The boy was taken to a local hospital for treatment. A suspect was in police custody after the incident.
Tigers 2, White Sox 1
Detroit -- Carlos Pena hit a tiebreaking home run in the seventh inning and Chris Spurling earned his first major-league victory as Detroit defeated Chicago. Detroit won for only the second time in its last six games and improved its record, the worst in the major leagues, to 22-65.
Spurling (1-1), making his 36th major-league appearance, won in relief of Wilfredo Ledezma, who made his first major-league start and allowed five hits in five shutout innings. Ledezma, who made 20 previous major-league appearances in relief, struck out four and walked none.
Chris Mears, who made his major-league debut June 29, pitched two innings for his first career save. He allowed one hit and struck out three.
Rangers 8, Twins 6
Arlington, Texas -- Juan Gonzalez started an inning-ending double play with a perfect throw from right field, then hit a tiebreaking homer as Texas rallied past Minnesota. Rafael Palmeiro hit his 511th career homer, his 21st this season, and Michael Young had three hits for Texas, which overcame a 5-0 deficit. The Rangers have won nine of 14 games after a 2-20 stretch that was their worst in 30 years.
Gonzalez led off the third with his 21st homer, breaking a 5-5 tie and putting Texas ahead to stay. Gonzalez, who last month turned down a trade to Montreal, drove in another run an inning later with a sacrifice fly.
Red Sox 2, Blue Jays 1 (12)
Toronto -- Jason Varitek hit a go-ahead single in the 12th inning, leading Boston past Toronto. Johnny Damon led off with a double off Jeff Tam (0-3) and Varitek, who had entered as a pinch hitter in the 10th, singled to center to drive in the tiebreaking run.
Boston manager Grady Little removed the struggling Damon from the leadoff spot. Damon, who batted eighth, went 3-for-4 with a walk.
Copyright 2018 The Associated Press. All rights reserved. This material may not be published, broadcast, rewritten or redistributed. We strive to uphold our values for every story published.