More traffic, larger vehicles and old age are taking their toll on bridges in Douglas County, threatening to stretch an already tight budget for repairs and replacement.
Of the 22 deficient bridges owned and maintained by the county -- structures deemed either "structurally deficient" or "functionally obsolete" -- only one is slated for replacement.
And that's not until 2006.
"There's just not enough money out there to repair or replace all the bridges that need to be replaced," said Keith Browning, county engineer and director of public works. "There's just not enough federal money available, and these bridges are very expensive."
But the county is tending to its most urgent needs.
The county's bridge on County Road 1055, about 3/4 mile south of County Road 458 at the base of Gun Club Hill, is slated for a $722,000 replacement in 2006. The 54-year-old bridge is showing signs of deterioration, with the most visible being its two-lane quilt of pavement patches.
To stretch the bridge's life, the county limits the weight of vehicles that can cross it. Full grain trucks are barred from using the bridge, but there are still 2,125 vehicles that cross the bridge each day.
The county's six other "structurally deficient" bridges also should be replaced, Browning said, but are not cause for immediate concern. Such ratings are born out of a complicated formula that combines a bridge's ability to consistently carry certain weights, plus the physical conditions of the structures that hold the bridge up.
If any single bridge is in danger of collapse or other problems, he said, it's closed. Immediately.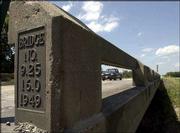 "I don't think we're in dire straits," Browning said. "We do have some bridges that need attention ... but most of our (problems) are on less-traveled roads."
Nine of the 15 county bridges considered "functionally obsolete" aren't traditional bridges at all, but roads that span pipes and water-carrying culverts for at least 40 feet.
Those obsolete structures don't have structural problems, Browning said. Instead, they typically are old structures that no longer fit standard design guidelines, such as for the width of lanes or strength of guardrails.
Financial gap
The county gets about $380,000 a year from the federal government to repair or replace its inventory of deficient bridges. That share typically gets soaked up for two or three years by a single project.
"It's a matter of setting priorities," Browning said.
County commissioners already have started making decisions about where to spend the county's money.
The bridge on 1055 is expected to absorb $369,000 of county funds, with the rest to be covered by federal money. Replacing a bridge on County Road 442 (old Kansas Highway 10) over Captain Creek, just west of the Johnson County line, would be expected to cost $549,500 in 2008.
A bridge along County Road 438 (Kasold Drive extended) across the Kansas Turnpike isn't on a deficiency list, but the area's growth and anticipated widening of the turnpike could push it up on the replacement list. The total project cost is estimated at $1.59 million.
The deck on the Kansas River bridge at Lecompton also is tentatively slated for replacement. That's a $2.75 million project that could start in 2005.
Other government agencies also recognize that they have work to do, only some of which is brought on by structural or design problems.
The Kansas Turnpike Authority intends to close two bridges across the turnpike this fall in Douglas County: at East 300 Road and at East 800 Road. A third, on East 100 Road, will come after the other two are done.
Each of the $900,000 projects will be financed by the turnpike and are designed to make way for the turnpike's widening from four to six lanes between Topeka and the Lecompton interchange.
Turnpike tolls
By 2012, the authority will replace the turnpike's two spans of Kansas River bridges east of Lawrence, said Tom Wurdeman, the turnpike's chief engineer. By then the bridges won't be strong enough to continue carrying the heavy loads that cross the river each day.
Those bridges will be part of a $131.9 million package.
"It's called 'fatigue life,'" Wurdeman said. "If you take a piece of baling wire and bend it till it gets hot and breaks, that's what fatigue is. Every time a truck goes over (a bridge), it bends a little bit. There's all kinds of engineering formulas to get to the point of, yes, you've had enough trucks. Our engineering firm is telling us that that time is 2012."
The Kansas Department of Transportation maintains about 4,800 bridges in Kansas, of which 856 rate as being structurally deficient or functionally obsolete, said Stan Whitley, a KDOT spokesman. Forty-one of the deficient bridges are in Douglas County.
The city of Lawrence cares for 11 bridges, including three that cross Naismith Channel south of 19th Street. All are in excellent shape and in no need of repair, said Terese Gorman, city engineer.
Copyright 2018 The Lawrence Journal-World. All rights reserved. This material may not be published, broadcast, rewritten or redistributed. We strive to uphold our values for every story published.