TUCSON, ARIZ. — A windblown wildfire that already has destroyed more than 300 mountaintop homes pushed into a previously untouched subdivision, burning five cabins and threatening 60 others, a fire official said Saturday.
The losses occurred during the night in Willow Canyon, one of three areas in the Santa Catalina Mountains threatened by the 2 1/2-week-old fire that already had blackened 68,000 acres.
Firefighters set backfires and cleared brush Saturday to defend homes in other areas, an observatory owned by the University of Arizona and an array of communication towers used by television stations and the Federal Aviation Administration.
Pruett Small, the operations section chief for the team fighting the fire, said the fire would continue to threaten Willow Canyon from other directions in the next day or two. Willow Canyon is a collection of older cabins on U.S Forest Service land.
The human-caused fire began on June 17 and destroyed 317 homes last month in and around the vacation hamlet of Summerhaven on Mount Lemmon. It was about 55 percent contained.
In northern New Mexico, calmer winds Saturday helped crews battling a mountain wildfire that had burned to within a half-mile of Taos Pueblo and forced campers to evacuate. Officials suspect lightning started the fire.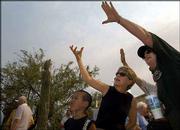 Copyright 2018 The Associated Press. All rights reserved. This material may not be published, broadcast, rewritten or redistributed. We strive to uphold our values for every story published.