Drue Jennings is about to complete his relatively short -- but certainly eventful -- three-month stint as interim athletic director at Kansas University.
The 56-year-old former CEO of Kansas City Power and Light, who was instrumental in the hiring of basketball coach Bill Self and athletic director Lew Perkins, officially will pass the torch Monday to Perkins, AD at the University of Connecticut the past 13 years.
"I feel grateful for having had the chance to do this job," said Jennings, hired by Chancellor Robert Hemenway April 9, the day embattled second-year KU athletic director Al Bohl was fired.
"I think there are a lot of KU alums who would have given anything to be in my shoes for a week, two weeks, three months, just name the time period," added Jennings, a 1968 KU grad from Leawood.
"It was a privilege to do it. But I also feel a sense of relief that my tenure is going to finish. The relief comes from the selfish side, that I get some of my time back, but more importantly I feel so good about the people we've got in place here."
KU fans also feel good about Jennings-led searches that led to the hires of Self and Perkins, who already have made fans forget the stormy days of April when Bohl was canned and hoops coach Roy Williams jumped ship to North Carolina.
It took just seven days for Jennings and athletic department peers Richard Konzem and Doug Vance to steal Self away from the University of Illinois and soothe hurt feelings caused by Williams' shocking departure.
"The basketball coach position is one I hadn't bargained for. None of us had," said Jennings, confronted with a crisis when Williams quit just five days into Jennings' regime. "That was a question of just keeping our basketball team together. We had some deserving young men, not only the incumbent players who had just completed such a successful season, but ones who'd signed with us who needed to have that question mark in their lives erased quickly.
"They needed their leader back in place. They deserved to have their coach in place, a coach like coach Self."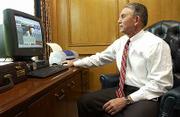 'A great coach'
The buttons on Jennings' distinguished, expensive gray suit pop when he discusses Self.
"Bill is a guy I not only like, but one I admire," Jennings said. "I just know he's going to be a great basketball coach. He has a great set of Midwestern values. He's fun to be around, loves to meet people, genuinely enjoys being around them and represents the university so well.
"He has helped us already in several fund-raising activities, some basketball-oriented, some not. He is willing to help the program and university even beyond his responsibility as basketball coach.
"He understands his role, the significance of what he is -- basketball coach at Kansas, which has probably the deepest, strongest tradition of any school in the country. He absolutely loves being coach here, and it shows."
Jennings senses the same about Perkins, who has been in phone contact with Jennings and other KU coaches and officials up to four hours a day since his hiring June 9.
"In Lew Perkins, we've gotten a true pro," Jennings said. "We've gotten somebody here who is experienced and is extremely capable in all the dimensions of being a major Division One athletic director.
"It's what KU deserves, and, by golly, it's what they've got. He has all the dimensions, the motivation you require from a leader, the fund-raising ability, the organizational ability, the absolute love for the place."
'A rock-solid guy'
Perkins sounds like a clone of Jennings, who has made a lot of friends and influenced a lot of KU people in his three months on the job.
"Drue is a rock-solid guy -- forthright, honest, a man of integrity, a man who has done wonders for morale in the short time I've been here," Self said.
"I think he's awesome ... plus he hired me. There will always be a place (in my heart) for him. He is a terrific man, loyal to the university, loves this place. I really hope he chooses to stick around and help the athletic department. He really is one of our most visible alumni now."
Chances are Jennings will be seen a lot in the coming school year.
Hemenway says he has asked Jennings to continue to serve "as an informal adviser to me for the future, as well, not in athletics, but for the university as a whole. His perspective can help us all."
Hemenway says his respect for Jennings grows daily.
"He is wise and steady, perceptive and firm. He knows how to get things done, and he acts always in a context of rational analysis," Hemenway said.
"He asks first, what is the right thing to do, and he has the courage to pursue the right course even if it is not the most popular option. The athletic world is intense, and it generates an enormous amount of public scrutiny. It is critical that the administration of athletics be done with honesty, character and integrity, and that the values of the university are manifest in athletic decisions.
"Drue exemplifies these values, and he does so with an intense competitive spirit that inspires those around him, and creates confidence in his approach. I have been honored by Drue's friendship, and I have been the recipient of his generous gift of leadership for these past three months," the chancellor concluded.
Jennings is just as gracious in discussing his coworkers of the past three months.
"One thing that can never be challenged is the loyalty of this staff in general and the depth of affection they feel for the University of Kansas," Jennings said. "I've not come across a person who has any doubts about what we are working for and the loyalty they all have for Kansas."
Copyright 2018 The Lawrence Journal-World. All rights reserved. This material may not be published, broadcast, rewritten or redistributed. We strive to uphold our values for every story published.