David Livingston had a choice to make.
The summer after his junior year at Baker University, Livingston, then 21, was weighing two job offers.
The political science major from Shawnee could either: accept a plum of an internship working for then-Secretary of State Bill Graves, thus taking the first step toward a career in politics; or go to work for the Kansas East Conference of the United Methodist Church, directing vacation Bible schools for children and leading at worship services.
Would he begin to map out a life as a politician or a pastor?
"It's one of those times when you have to pray and do what you think God wants you to do. I didn't know if I'd made the right choice (in jobs) until the end of the summer," said Livingston, now 30.
He chose to work for the Kansas East Conference, joining four other college students and a graduate student and working at a number of churches in the region, including First United Methodist Church, 946 Vt. Since then, his path led him steadily away from politics and into ministry. Kansas lost an aspiring politician, and the United Methodist Church eventually gained a young pastor.
Tuesday was Livingston's -- make that the Rev. Livingston's -- first day in his new position: serving as the associate pastor of First UMC.
He and his wife, Tracy, came to Lawrence from rural Atchison County, where Livingston was pastor at Camp Creek and Lancaster United Methodist churches from June 2001 until last month.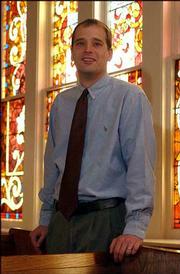 He had no regrets about that choice he made in 1994.
"I think everybody has a calling for their life. I'm happy being a pastor. When you have that call from God, it's something that you have to do," Livingston said.
Develop new programming
Coming on board at the roughly 1,600-member First UMC represents a major step forward in the scope and scale of Livingston's responsibilities, at least compared to the past few years.
The couple lived in a country parsonage, and the two churches where Livingston pastored had congregations of 30 and 55 people.
"We lived across the road from chickens. We even named a couple of them, and our cats loved looking at them," he said.
Even though the membership of the churches was small, Livingston's job was continuous and demanding.
Position: Associate pastor of First United Methodist Church.Previous job: Pastor at Camp Creek and Lancaster United Methodist churches in Atchison County.Education: Degree in political science at Baker University; master's of divinity at St. Paul School in Theology in Kansas City, Mo.Family: Wife, Tracy.
Since he lived in the parsonage, he never really got a day off. There were always work-related phone calls to answer and church mail to open.
"It's a big jump (coming to First UMC). I'm personally excited about it; I spent time as a teenager at this church for different youth events. Now I feel like I'm getting back more in my element," Livingston said.
He hasn't always been a country pastor.
Before leading the churches in Atchison County, Livingston served for three years as associate pastor of Old Mission United Methodist Church in Fairway.
It was there that he introduced and developed a Saturday evening contemporary service that attracted a young, diverse group of worshippers.
That's one of the reasons why Bishop Fritz Mutti of the Kansas East and West conferences appointed Livingston to his new position, where his first responsibility will be to help develop programming at First UMC's west campus, a 67-acre site purchased in October 2001 that will be home to a multipurpose facility called Celebration Center.
The sprawling campus is at the southwest corner of the intersection of U.S. Highway 40 and Kansas Highway 10.
For the second summer in a row, the church offers casual-dress, outdoor services called Prairie Worship at 5:30 p.m. Saturday and 7 p.m. Sunday at the west campus, led by the Rev. Barb Clinger, First UMC's director of senior adult ministries.
Programming at the campus will expand as the church develops the site.
Groundbreaking for Celebration Center is planned for spring 2004, followed by first worship services there for Easter 2005.
"David will be putting together some group of folks to assist in the worship and program development of the west campus. One of the phenomenal gifts he brings is that he put together the Saturday evening contemporary worship service at Old Mission United Methodist Church," said the Rev. Sharon Howell, First UMC's senior pastor.
"He has that experience that I've never had. That's just a real gift he brings to the staff as we are deciding what kind and how many worship experiences we'll be offering at the west campus."
Right place to be
Livingston, who earned his master's of divinity at St. Paul School of Theology in Kansas City, Mo., is eager to get started.
"The biggest thing right now is to work with the different people in the church to develop that site. There's going to be a lot of land aside from the building itself. We need to figure out how to utilize that," he said.
"We also need to do a demographic study to figure out who's living on the west side of town. We have to make sure we are going to offer what they want."
The overall goal is to envision the downtown campus and the west campus as complementary sites that will meet the needs of the whole city.
Coming to serve at the Lawrence church feels the right place to be.
"It's exciting to work with Sharon. I've had a lot of respect for her since the first time we worked together for the General Conference of the United Methodist Church. We were both delegates to that in 1996," said Livingston, who was ordained as an elder in 2002.
"Of all the pastors in the conference, Sharon is the one I would most want to work with. She has great experience and knows what she's doing. We'll be able to work as pastors together."
Copyright 2018 The Lawrence Journal-World. All rights reserved. This material may not be published, broadcast, rewritten or redistributed. We strive to uphold our values for every story published.