TUCSON, ARIZ. — McKale Center is an awful place for visiting teams, except for the Stanford Cardinal.
Matt Lottich scored 23 points, including a crucial 3-pointer with 58 seconds to play, lifting Stanford to an 82-77 upset of No. 1 Arizona on Thursday night.
Stanford beat a No. 1 team for just the third time in the school's history and the first time on the road. But wins at McKale Center are nothing new for coach Mike Montgomery's squad.
The Cardinal (15-5, 6-2 Pac-10) won at Arizona for the third year in a row.
"It was a great win considering we didn't even play our best," Montgomery said.
When it was over, there was no wild celebration. The Stanford players patted each other on the back, shook hands and walked away.
"We've beat ranked teams before. They just happened to be No. 1," Stanford's Nick Robinson said.
Despite the loss, Arizona (15-2, 7-1) remained tied with California for first place in the Pac-10. No. 20 Cal lost at Arizona State 75-70 Thursday. The Bears play at Arizona on Saturday.
Julius Barnes, who had 14 points and 10 assists but shot just 4-for-21, sank both free throws in a one-and-one situation with 8.5 seconds to play to seal the victory.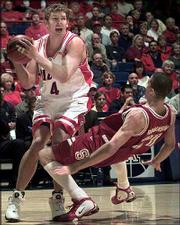 Lottich made 5 of 8 3-pointers.
Jason Gardner scored 22 and Luke Walton a season-high 20 for the Wildcats, who rallied from a 14-point second-half deficit to take a three-point lead but couldn't hold it.
"We can't make the number of mistakes we made with the ball and we can't miss 12 of 26 free throws," Arizona coach Lute Olson said.
The Wildcats committed 19 turnovers, five by Gardner, and were 14-for-26 at the foul line.
Salim Stoudamire, who scored 34 in Arizona's victory at Kansas University last Saturday, played just 17 minutes because of foul trouble and had three points on 1-for-5 shooting.
No. 5 Duke 80, Butler 60
Durham, N.C. -- Dahntay Jones scored 25 points and Shavlik Randolph added a season-high 24 as Duke won its 23rd straight game in Cameron Indoor Stadium.
The Blue Devils (14-2) built on their 12-point halftime lead by making eight of their first nine shots to start the second half to cruise to the 20-point win by shooting 53 percent.
Butler (16-3) played Duke to improve its strength of schedule come NCAA tournament selection time.
No. 10 Maryland 75, NC State 60
College Park, Md. -- Steve Blake scored 20 points and Drew Nicholas hit two straight 3-pointers during a 14-0 second-half run that carried No. 10 Maryland (13-4, 6-1).
Marcus Melvin had 15 points and Julius Hodge 14 for NC State (11-5, 4-2), which missed a chance to extend its winning streak to four and move into first place in the ACC.
Arizona State 75, No. 20 California 70
Tempe, Ariz. -- Curtis Millage scored seven of his 21 points on free throws in the final 3:22 as Arizona State ended California's best conference start in 46 years. Donnell Knight and Shawn Redhage added 10 points each for Arizona State (13-6, 5-3 Pac-10).
Joe Shipp had 27 points and eight rebounds for Cal (14-3, 7-1), which hadn't begun a league schedule as well since winning its first 10 in Pacific Coast Conference play in 1957.
No. 22 Oregon 96, UCLA 91, OT
Los Angeles -- Luke Jackson scored 27 points and Ian Crosswhite had eight of his 22 points in overtime as Oregon handed UCLA (4-12, 2-6 Pac-10) its seventh straight loss, the Bruins' longest skid in 57 years.
The Ducks (15-4, 5-3) won their first conference road game after two losses and fifth straight game overall.
Copyright 2018 The Associated Press. All rights reserved. This material may not be published, broadcast, rewritten or redistributed. We strive to uphold our values for every story published.