Wellsville — How badly did Baldwin High's Anna Skaggs want to play in Saturday night's Top Gun Invitational championship game?
Well, the senior scored 11 straight points to open Thursday night's first-round game and completely took control in the second half of Baldwin's 68-37 semifinal blowout of Gardner-Edgerton at Wellsville High.
The 5-foot-8 Skaggs was everywhere -- leading the break, corralling teammates' bricks with putbacks of her own and leading Baldwin's suffocating defense -- to increase an eight-point halftime lead to 29 before fouling out with 4:45 remaining, having scored a career-high 29 points.
"She really, really wanted to play in that game," said Baldwin junior Emily Brown, who chipped in 20 points and 13 rebounds in Baldwin's 13th victory of the season.
The Bulldogs advanced to a 7:45 p.m. Saturday showdown against Saint Marys, which defeated Ottawa, 52-48, in Thursday's other semifinal.
Asked what sparked her career night, Skaggs was speechless.
"I don't know, I just did all the things I normally do," said Skaggs, who scored 12 points in Baldwin's 64-33 tourney-opening win Tuesday against Anderson County. "I got rebounds, I was there on the break. It just seemed that everything happened where I was in position to score."
And score Skaggs did.
She had a drive, a putback, a three-pointer and a short jumper to put Baldwin ahead 9-6 in the game's opening minutes. Another bank shot by Skaggs increased Baldwin's lead to 11-8 when the Trailblazers threatened early.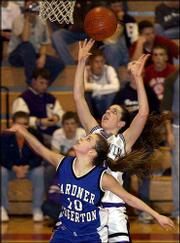 After another basket by Gardner-Edgerton, Skaggs bent a wrap-around pass to Brown for an open three. The two combined for 10 of Baldwin's next 16 points, leading the Bulldogs to a 30-22 halftime lead.
After the break, the two Bulldogs were even better. Skaggs' 18 points spurred a 30-9 Baldwin run which would culminate 11 and a half minutes later when she fouled out.
"All that people look at in box scores is scoring," Baldwin coach Eric Toot said. "Anna has been playing this way for three years, just not scoring like this. I think she's been the most underrated player."
Baldwin 68, Gardner-Edgerton 37
Gardner-Edgerton 14 8 5 10 -- 37
Baldwin 18 12 21 17 -- 68
Gardner-Edgerton -- Kayla Byler 5, April Taylor 2, Katie Berg 6, Jessica Stewart 8, Amber Howard 2, Erin Johnson 14.
Baldwin -- Anna Skaggs 29, Anna Gillispie 4, Leslie Gillispie 3, Kari Garrison 3, Kalie Harris 2, Emily Brown 20, Katelyn Miles 7.
Saint Marys 52, Ottawa 48
Saint Marys overcame a three-point third quarter deficit with a 22-point outburst in the fourth to advance to Saturday's championship.
The two teams combined for 37 points in the final eight minutes, which was just nine points shy of what they scored in the first 16 minutes.
Saint Marys shut down Ottawa's Liz Burks and Megan Ramsey in the second half. The two Cyclones tallied 18 points in the first half but were limited to seven the rest of the way.
Saint Marys 52, Ottawa 48
Ottawa 13 12 8 15 -- 48
Saint Marys 11 10 9 22 -- 52
Ottawa -- Liz Burks 12, Jenny Heck 8, Jara Vance 2, Laura O'Connor 2, Megan Ramsey 13, Kelsie Studley 11.
Saint Marys -- Claire Ashby 9, Jenny Quintanilla 6, Mandi Lasswell 12, Brooke DeVader 6, Megan Maylan 16, Heather McAfee 3.
Eudora 52, Anderson Co. 44
A 26-13 start Thursday against Anderson County sure beat the 31-17 deficit Eudora opened with Tuesday when it lost to Gardner-Edgerton in the first round.
The early difference in the Cardinals' play Thursday paved the path to their fifth win of the year.
"We played a lot better this evening," said Eudora coach Cara Kimberlin, whose team will play Wellsville for fifth place Saturday at 4:30 p.m. "I was pleased to see us come out and put a lot of points on the board in the first half and go into halftime with a cushion."
Junior Lauren Kracl led the Cardinals with 18 points and 14 rebounds, her fourth double-double in the six games she's played since returning to the team during winter break after recovering from an injury. Freshman point guard Michelle Deluna added 16 points.
Eudora 52,
Anderson County 44
Eudora 15 11 11 15 -- 52
Anderson Co. 5 8 15 16 -- 44
Eudora -- Rachel Abel 3, Michelle Deluna 16, Cayla Moyer 8, Lauren Kracl 18, Mallorie Cleveland 7.
Anderson County -- Erin Sample 5, Rachel Rockers 15, Ashli Bowman 10, Kelli Bunel 8, Danielle Rhoades 2, Kelsi Suderman 4.
Wellsville 48, KC Piper 40
Wellsville's Wendy Moore, Dani Patton and Lacey Roecker combined for all but 10 of the Eagles' points. Moore had a game-high 15 points, while Roecker added 13. Patton scored 10 for the Eagles, who overcame a 26-18 halftime deficit by outscoring Piper 30-14 in the second half. Wellsville will face Eudora for fifth place at 4:30 p.m. Saturday.
Wellsville 48, KC Piper 40
KC Piper 11 15 10 4 -- 40
Wellsville 8 10 15 15 -- 48
KC Piper -- Amy Hollander 3, Amanda Woolley 7, Katie Kaminski 2, Ashley Boczek 2, Allison Kaminski 1, Allison Brown 8, Ashley Sanders 9, Laura Bennett 8.
Wellsville -- Stacia Moore 4, Jamie Samsel 3, Heather Carpenter 2, Kimberly Hughes 1, Dani Patton 10, Wendy Moore 15, Lacey Roecker 13.
Copyright 2018 The Lawrence Journal-World. All rights reserved. This material may not be published, broadcast, rewritten or redistributed. We strive to uphold our values for every story published.