Faced with tight finances and hounded by complaints from their biggest annual contributor, members of the Douglas County Historical Society have hired a new director for their flagship museum.
"The first time I'd been in the museum was during the interview," said Rebecca Phipps, who next month will start as director of the Watkins Community Museum of History, 1047 Mass. "I think there's a lot of opportunity, both for the institution as well as for me, in terms of learning. I think it's exciting."
Phipps, curator and assistant director of the Carroll House Museum in Leavenworth, topped a list of nine applicants for the director's job. It's been vacant since November 2001 when board members, hamstrung by dwindling donations, demoted and cut the salaries of longtime historian Steve Jansen and employee Judy Sweets to make ends meet.
But Douglas County commissioners, who this year will pump $58,000 into the museum's $212,000 budget, turned up the financial heat. They threatened to withhold all or part of the county's contributions unless wholesale changes in leadership at the museum were made. The threats forced board members to push for Jansen's resignation, which they recently accepted.
Commissioners also demanded board members hire an experienced administrator to handle everything from developing an endowment to expanding the museum's store to establishing a fund for artifacts and collaborating with Kansas University's museum studies program.
Other job obligations: generating donations, writing grants, expanding exhibits and taking the museum from a research and educational library and into a community resource, attraction and treasure.
"Clearly, it's a challenge, and I hope she understands the challenge," said Bob Johnson, chairman of the Douglas County Commission. "Clearly, the selection committee thinks she's up to the challenge. Now it's a matter of the community rallying behind her and helping her and supporting her. Together, we can make this happen."
Phipps, 28, has a master's degree in museum studies from Kansas University. For nearly two years, she has worked at the Carroll House, overseeing a burgeoning collection of 36,000 photographic prints and negatives.
Her grant at Carroll House ran out Dec. 31, though she continued to work there on a $19,000 salary with support of private donations.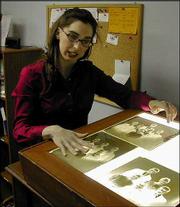 When she starts in Lawrence, likely Feb. 18, Phipps will earn at least $40,000. And her current boss said she would be worth every penny.
"She'll be a great administrator," said Mark Bureman, administrator for the Carroll House. "She has high standards; she's a professional; she's a workaholic, and she has the energy of youth. You can't beat those characteristics."
Phipps isn't promising wholesale changes at the museum, at least not right away. She said she intended to learn from its current employees, stable of volunteers and dozens of patrons and contributors to see what works and what doesn't.
Phipps said she would first establish an administrative framework for the museum -- everything from creating personnel policies to "even simple things, like how we answer the phone."
Then, she said, she would turn to the museum's more visible features, such as new exhibits and outreach programs.
"If the county is pressing for change, that means they're supporting the institution," she said. "I know there's some indication that they want to financially support it even more, if changes are made, if things start to develop. I think that's a great opportunity. I think there's a lot to do, and I'm comfortable with that."
Copyright 2018 The Lawrence Journal-World. All rights reserved. This material may not be published, broadcast, rewritten or redistributed. We strive to uphold our values for every story published.