The economic recession has erased five years of gains for the Kansas University Endowment Association.
The endowment's portfolio has lost 20 percent of its value since June 2000, and the total value of the Endowment Association's assets -- including cash and real estate -- has dipped below $1 billion for the first time since 1999.
"College and university endowments are subject to the same economic influences as others are throughout the country," said Dale Seuferling, the Endowment Association's president. "It's similar to what's happening to private foundations and to retirement accounts."
The KU Endowment Association took the hardest hit among foundations supporting Big 12 universities during the 2001-2002 academic year, according to a report by the National Association of College and University Business Officers released last week.
The 12 percent drop in KU's endowment -- from $831.8 million to $732.2 million -- also was worse than the 6 percent average decline in university endowments nationwide.
Things haven't been any better during the first half of fiscal year 2003, either. The endowment's value has dropped about $49 million -- or 6.7 percent -- to $683 million since June 30, 2002. The Endowment Association's total assets have now dropped to about $969 million, from $1.02 billion this summer.
Seuferling blamed the KU Endowment Association's poor performance on the endowment's emphasis on equities, mainly stocks. Endowments that have performed better in recent years have focused on fixed-interest bonds, he said.
John Scarffe, director of communications, said officials had no plans to change their investment philosophy, since the stock-heavy portfolio performs better in good times.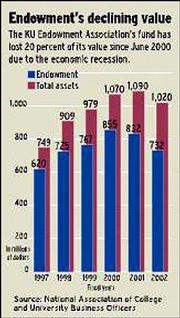 "Our philosophy is to ride it out," Scarffe said. "Our treasurer (Jeffrey Davis) really believes things will plateau and start coming back again."
Seuferling said the dip in the endowment made the current five-year, $500 million "KU First" campaign more important. So far, the campaign has raised $358 million.
"Some have said it's a bad time to be in a campaign, with the erosion in personal wealth," he said. "That has been a factor, but for the health of the institution, bringing financial support to KU in these times counteracts what is going on in other areas."
The amount of support the Endowment Association can provide to KU likely will be affected by the recession. Officials spent a record $68.9 million to support the university in the past fiscal year, and the year-to-date average this year is up 30 percent over last year.
But much of the amount being spent during the campaign is one-time donations for buildings and other capital projects.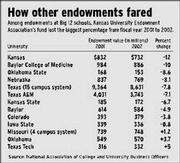 The Endowment Association's policy is to pay 5 percent of the endowment's three-year average value. Money that goes to scholarships, endowed professorships and departmental support decreases as the endowment decreases.
That means a professor who made $50,000 from a $1 million endowed professorship in 2000 would receive $47,137 this year.
"We're not able to generate the kinds of returns we can get in the good times," Seuferling said.
So KU -- already dealing with $18.8 million in budget cuts this year -- may face decreases in some areas of funding in the coming years. But Seuferling said the decreasing funds should affect where the Endowment Association spent its money.
"I wouldn't say it's made a direct change," he said. "Budget cuts and adjustments have to be made on a school-by-school basis. The case we make in fund-raising is to communicate to alumni and prospective donors that the cuts show there's more need today for their help."
Copyright 2018 The Lawrence Journal-World. All rights reserved. This material may not be published, broadcast, rewritten or redistributed. We strive to uphold our values for every story published.