Pittsburgh — Georgetown, the bully on the Big East block for years, wasn't about to willingly cede that title to Pittsburgh, even if the Panthers now are seen as the most physical team in a notoriously tough conference.
Julius Page made a free throw with 0.4 seconds remaining Saturday to cap No. 2 Pittsburgh's second-half rally, and the Panthers, making free throws when it counted, held off Georgetown, 65-64.
Chevy Troutman, Pitt's only reliable free-throw shooter for much of the intense, foul-filled game, keyed the comeback by scoring all but one of his 20 points in the second half. His five consecutive points gave Pitt the lead for good at 59-56.
The Panthers are 15-1 for the second straight season and 5-0 in the Big East for the first time. In their first close home game this season, they held Georgetown's Mike Sweetney to 12 points, nearly 10 below his average, yet still had a struggle.
"It was physical, but you've got to expect that," Pitt coach Ben Howland said. "Georgetown wrote the book on physical. It wasn't dirty, but it was a hard-fought, physical game."
Pitt seemed to be in control, leading 64-60 with 24 seconds remaining, but Drew Hall and Brandon Bowman each made two free throws to tie it. Bowman, a freshman, made his with 3.5 seconds remaining.
Page then took Jaron Brown's inbounds pass and, driving from near midcourt, was fouled by Hall as he lost his balance while nearing the basket. Page made the first free throw, then intentionally missed the second so time could expire before Georgetown (10-5, 2-3) could get off a desperation shot.
"I was sure he was going to make it," Pitt's Brandin Knight said. "Everybody talks about our (mediocre) foul shooting, but I had the utmost confidence he was going to make that shot."
Brown was supposed to pass to Carl Krauser, who was to get it to Page. Instead, Brown threw directly to Page.
"He said he was open," Howland said. "He's got a lot of guts."
No. 3 Duke 91,
Georgia Tech 71
Durham, N.C. -- Dahntay Jones scored 21 points and Shelden Williams added a season-high 18 as Duke avoided its first three-game ACC losing streak in seven years. Duke (13-2, 4-2), the nation's top-ranked team last week, lost road games to Maryland and North Carolina State in a five-day span before bouncing back against the Yellow Jackets (9-7, 2-3), who lost their 13th straight to the Blue Devils and fell to 0-6 on the road this season.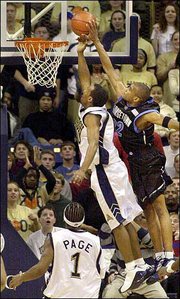 No. 9 Louisville 72, Tennessee 69
Knoxville, Tenn. -- Taquan Dean hit a key three-pointer and Kendall Dartez made a jumper in the final minute as Louisville rallied to beat Tennessee. Reece Gaines scored 22 points, Marvin Stone added 13 points and 13 rebounds and Erik Brown had 11 points for the Cardinals (14-1), who have won 13 in a row to tie Oklahoma State for the longest winning streak in the country. The Volunteers (9-6) were the first team in 11 games to shoot better than 40 percent from the field against Louisville, finishing at 43 percent, but they also turned the ball over 18 times.
No. 11 Connecticut 74, Villanova 65
Hartford, Conn. -- Rashad Anderson scored a career-high 18 points on 7-of-9 shooting to lead Connecticut. The Huskies (12-3, 3-1) remained unbeaten at home after coming off two tough road losses. The Wildcats (12-6, 5-1) were on a five-game winning streak, averaging nearly 92 points during that run. They shot just 35 percent on Saturday. Anderson, a freshman reserve, was 4-of-5 from three-point range. Ben Gordon added 17 points for the Huskies, and Emeka Okafor had 14 points and 10 rebounds. Gary Buchanan led the Wildcats with 14 points.
No. 12 Maryland 52, Clemson 47
Clemson, S.C. -- Drew Nicholas scored 14 points and Maryland overcame its worst shooting performance of the season to win its 10th in a row over Clemson. The Terps (12-4, 5-1) came in leading the Atlantic Coast Conference in three-point shooting and were second overall in field-goal percentage. However, they struggled throughout against Clemson, shooting just 19-of-56 (.339) but won for the sixth time in seven games and held on to first place in the ACC. Maryland's sloppy performance kept Clemson (11-4, 1-4) around until the final minute.
Purdue 69,
No. 14 Indiana 47
West Lafayette, Ind. -- Kenny Lowe scored 19 points, Willie Deane had 18 and Chris Booker 13 as Purdue dominated from start to finish. The Boilermakers (12-4, 4-1 Big Ten) snapped a five-game losing streak to the Hoosiers (14-4, 4-2) and improved to 10-0 at home. It was Purdue's first win over a Top 25 team since it beat No. 9 Illinois on Jan. 9, 2002. Purdue was 1-12 in its last 13 games against ranked teams. Lowe hit three three-pointers and scored 13 points and Deane had seven points in the first 10 minutes, as Purdue jumped to a 22-12 lead and never let the lead dip below 11.
No. 16 Notre Dame 101, Boston College 96, OT
Boston -- Chris Thomas scored 25 of his 28 points after halftime and had seven assists and a season-high eight rebounds to lead Notre Dame. Thomas scored 18 points in the second half, but was quiet in overtime before making two free throws, then stealing the ball from Troy Bell and making a breakaway layup to give the Irish (16-3, 4-1 Big East) a 92-85 lead with 1:42 to play. Notre Dame was 9-of-14 from the free throw line down the stretch to hold off the Eagles (8-8, 1-4). Bell matched his season high with 31 points, and freshman Craig Smith had 24 points and 15 rebounds for BC, which has lost six of its last eight games.
No. 18 Illinois 75,
Penn State 63
State College, Pa. -- James Augustine had 19 points and 12 rebounds to lead the Illini (14-3, 4-2 Big Ten), who had lost their last two conference road games. Brandon Watkins had 18 points for Penn State (5-11) which is 0-5 in the Big Ten, the worst start since joining the conference in 1992.
No. 19 Georgia 85,
No. 24 Auburn 79
Athens, Ga. -- Ezra Williams had 19 points and Steve Thomas added 16 points and 11 rebounds for the Bulldogs (12-4, 4-1 Southeastern Conference). Brandon Robinson had a career-high 25 points and nine rebounds for the Tigers (15-4, 4-2).
No. 20 Marquette 72, DePaul 51
Milwaukee -- Dwyane Wade scored 21 points and had a career-high seven steals, and Todd Townsend had all 12 of his points on four three-pointers in the opening nine minutes for the Golden Eagles (13-3, 5-1 Conference USA). Sam Hoskin had 11 points for the Blue Demons (10-6, 2-3).
No. 22 Miss. State 67, LSU 64
Starkville, Miss. -- Michael Ignerski scored 15 points, including Mississippi State's final two baskets, as the Bulldogs went the final 5:42 without a field goal and withstood a frantic last-minute rally by LSU (12-5, 1-4 Southeastern Conference). The Tigers outscored the Bulldogs 11-0 in a 44-second span, getting three straight three-pointers from Darrel Mitchell, Torris Bright and Ronald Dupree. Dupree's was a leaner with 11.7 seconds left that made it 65-64. Derrick Zimmerman hit two free throws for Mississippi State (12-4, 2-3) to up the lead to 67-64 with 9.5 seconds left.
No. 23 Oregon 76, Washington State 66
Eugene, Ore. -- Luke Ridnour scored 28 points, and Oregon overcame a first-half deficit to beat injury-riddled Washington State and send the Cougars to their eighth straight loss. The Ducks (14-4, 4-3 Pacific-10), playing without injured starting forward Luke Jackson, trailed 32-31 at the halftime. But they came back with renewed energy to lead by as many as 13 in the second half. Washington State (5-12, 0-8) rallied to tie it at 51 on Chris Schlatter's jumper with 7:19 left. But Oregon scored the next 11, and the Cougars never regained the lead. Thomas Kelati led Washington State with 18 points.
No. 25 California 80, UCLA 69
Berkeley, Calif. -- Joe Shipp had 23 points to lead California over struggling UCLA, which lost its sixth consecutive game for the first time in 55 years. UCLA's last six-game losing streak was during the 1947-48 season, the year before John Wooden took over as coach and led the Bruins to 10 of their 11 NCAA titles. Amit Tamir added 20 points and 10 rebounds for Cal (14-2, 7-0 Pac-10), which has won eight straight games for the first time since a similar run late in the 1992-93 season. Jason Kapono scored 23 points to lead the Bruins (4-11, 2-5) and move past Toby Bailey into fourth place on the school's career scoring list with 1,861 points -- trailing only Don MacLean, Lew Alcindor and Reggie Miller.
Copyright 2018 The Associated Press. All rights reserved. This material may not be published, broadcast, rewritten or redistributed. We strive to uphold our values for every story published.