San Diego — Marcus Allen was elected to the Pro Football Hall of Fame on Saturday, a day before the team he left during a bitter feud returns to the Super Bowl.
The former Oakland Raiders running back was chosen for the Class of 2003 in his first year of eligibility. He will be joined by Elvin Bethea, Joe DeLamielleure, James Lofton and Hank Stram, who was selected as a seniors candidate.
Stram coached for 17 seasons, starting with the AFL's Dallas Texans, who moved to Kansas City. He was with the franchise from 1960-74 and then coached in New Orleans for two more seasons. He led the Chiefs to two Super Bowls, losing the first one to Green Bay and then beating Minnesota after the 1969 season.
Stram will go into the Hall of Fame as a seniors candidate, a separate category for nominees who completed 70 percent of their career more 25 years ago.
Allen was the first player in NFL history to rush for more than 10,000 yards and catch passes for 5,000 more. He finished his career with 12,243 yards rushing and 5,411 receiving. He scored 145 touchdowns and was regarded as one of the game's best goal-line and short yardage runners.
Allen played a crucial role in the Raiders' last title, when he won the MVP award in the 1984 Super Bowl. He ran for 191 yards that day, including a spectacular 74-yard touchdown. In 1985, he won the league's MVP after rushing for 1,759 yards.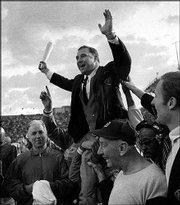 Bethea, a defensive end, played 16 seasons, all with the Houston Oilers. He made the Pro Bowl eight times and led the team in sacks six times, finishing his career with 105.
DeLamielleure played 13 seasons with Buffalo and Cleveland and was a starter from the first game in his rookie season. He was the lead blocker for Hall of Famer O.J. Simpson, who became the NFL's first 2,000-yard rusher in 1973.
Lofton played 16 seasons at wide receiver and had more than 50 catches in a season nine times. He was the first NFL player to score a touchdown in three different decades and finished his career with 764 catches for 14,004 yards and 75 touchdowns.
Enshrinement of the class of 2003 is scheduled for Aug. 3 at the Hall of Fame in Canton, Ohio.
Copyright 2018 The Lawrence Journal-World. All rights reserved. This material may not be published, broadcast, rewritten or redistributed. We strive to uphold our values for every story published.