Salt and pepper shakers are among the most popular collectibles found at flea markets and shops today. They are inexpensive, and the variety is endless.
Collectors specialize. They collect shakers shaped like people, animals or vegetables. They want shakers that move, called nodders, rockers, bobbers or weavers. They want sets with two related shakers, like a baseball mitt and a ball or a cowboy and a horse. Affectionate salt and peppers -- sets with two animals that fit together in a hug -- are called huggers or snuggle hugs. There are even special sets of salt and peppers that are kept in holders, such as a metal grapevine holding bunches of grapes that are shakers, or a bellhop holding a pair of suitcase shakers. Special shaker makers, like Holt Howard or Van Tellingen, are collected by name. Most shakers are ceramic, but there are collectors who specialize in metal, plastic or wooden shakers.
Most of the salt and peppers collected today were made in the 20th or even 21st century. They can be found for a few dollars and up.
This is a collection that is inexpensive, can make an interesting display and is useful at the dinner table.
An ornate rosewood itaghre has been passed down to me by my parents. They lived in the deep South, but the only mark I can find on the piece reads "Robbins and Winship, Hartford, Conn." Would this be the manufacturer?
Philemon E. Robbins founded a furniture company in Hartford in the early 1830s. By the end of the decade, Joseph Winship had become a partner, and the business was renamed Robbins and Winship. The partnership kept that name until the 1870s, making chairs, desks, highboys and cupboards. From the 1840s to the 1860s, the rococo revival style of furniture was popular in the United States. Your rococo revival itaghre dates from this period. It is valuable.
My pottery bowl pictures a stylized owl. It is marked "Briglin Pottery." It belonged to my mother. Can you tell me anything about it?
Briglin Pottery was started in London in 1948 by Brigitte Goldschmidt (later Appleby) and Eileen Lewenstein. In 1959, Brigitte took over and moved the company to a new building, where it worked until 1990.
I found a box of strips of pictures of my father and his friends during World War II. They seem to be from a special camera that took a strip of four small pictures, each different. Are these collectible?
You probably have a group of photobooth pictures. The booth was patented in 1925, and by 1927 it was a huge success. The machine let you sit inside, drop money in a slot and pose. In a few moments, a strip of four different pictures was ready. They were the first "instant" pictures. Teens liked to exchange them with friends; tourists liked to have a souvenir from a faraway place. The photobooth was out of style by the 1970s, but there is now renewed interest. Many of the newer pictures are made as small stickers, not just photos. Collectors are interested enough today to pay $10 to $100 at Internet auctions for unusual old pictures. There is even a new book showing hundreds of examples.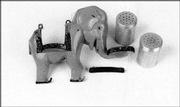 We have a grandfather clock that has been in our family for 150 years. The works are wooden, and the name on the clock face is "L.W. Watson, Cincinnati." The clock keeps almost perfect time, but its bell ringer no longer works. We would appreciate any information you can provide.
You have a very good clock made by a very good clockmaker, Luman Watson. He was working in Cincinnati in the 1830s. Your clock is well over 150 years old. The gear for the bell is probably stripped, but it can be repaired. The value of your clock is in the thousands of dollars.
I recently purchased an unusual milk can at an antiques shop in Rhode Island. I have never seen another like it. It's round, with an open loop handle on the top. The top also has a large, round, open hole. The two metal tags on the top read: "The Surge Milker, Babson Bros. Co." and "Made of Enduro, Republic's Perfected Stainless Steel." How was this can used, and how old is it?
The large, open hole at the top of your milker is for a cap that holds four milking valves. The valves have cups that attach to a dairy cow's teats. A Surge milker like yours was advertised in farm publications during the 1940s and early '50s. That is probably when yours was made. The machine was invented in 1922 by Herbert McCornack. The machine's surging action resulted in a "tug-and-pull" movement that held the teat cups down. That way, the milk flow would not shut off. McCornack sold his invention to Babson Bros. of Chicago, which at the time was manufacturing a different style of milker. The Surge milker became the country's leading brand.
Tip
Be careful when choosing a purse to use with a vintage gown. The dress fabric could be damaged by the rough surface of a beaded bag or a jeweled closure.
The Kovels answer as many questions as possible through the column. By sending a letter with a question, you give full permission for its use in the column or any other Kovel forum. Names and addresses will not be published. We cannot guarantee the return of any photograph, but if a stamped envelope is included, we will try. The volume of mail makes personal answers or appraisals impossible. Write to Kovels, (name of your newspaper), King Features Syndicate, 888 Seventh Ave., New York, NY 10019.
Current prices are recorded from antiques shows, flea markets, sales and auctions throughout the United States. Prices vary in different locations because of local economic conditions.¢ Heisey ashtray, orchid pattern, 3 inches, $30.¢ Tabletop shooting gallery toy, pinball, manufactured by Challenger Manufacturing Co., c. 1925, $175.¢ Goldscheider figurine, Pierrot draping shawl on lady, floral dress, blue and green, 1920, marked, 15 inches, $325.¢ Tramp-art miniature grand piano with bench, notch-carved, applied hearts, diamonds, triangles, hinged lid, 1910, 2 1/2 x 11 1/2 x 4 1/2 inches, $500.¢ Coalport cabinet cup and saucer, quatrefoil shape, swirling turquoise jewels, gilded interior, c. 1900, 4 1/2 x 4 1/2 inches, $695.¢ Stoneware pitcher, salt glazed, cobalt design, singing bird, applied handle, c. 1880, half gallon, 11 1/4 inches, $880.¢ Madame Alexander doll, Mary Martin from "South Pacific," sailor costume, 1950s, 18 inches, $910.¢ Popeye toy, head goes up and down, windup, celluloid, King Features Syndicate, 1929, original box, 8 1/2 inches, $1,250.¢ Edward Wormley Long John bench, center drawer, 1948, 11 1/2 x 6 ft. x 19 inches, $1,175.¢ Needlework, silk, memorial picture, woman in mourning leaning by urn, church, cemetery, weeping willow in background, 1870s, 17 x 15 inches, $2,235.
Copyright 2018 The Lawrence Journal-World. All rights reserved. This material may not be published, broadcast, rewritten or redistributed. We strive to uphold our values for every story published.