Miami — The Philadelphia 76ers are beginning to understand that Allen Iverson can't carry the team by himself.
"We can't put it all on the little kid, even though he's as good an offensive player as there is in the league," coach Larry Brown said. "You can't put it all on him all the time."
Keith Van Horn scored 26 points and Iverson had 25, including a 12-footer with 42.1 seconds left that put Philadelphia ahead for good in its 97-91 victory over the Miami Heat on Saturday.
But the team's fate did not rest in Iverson's hands alone, which is the way Brown wants it.
Eric Snow added 16 points, Derrick Coleman returned to the lineup after missing two games and scored 14 points, and rookie John Salmons found a way to do something none of his teammates could -- shut down Miami's Caron Butler.
"We just did a good job stopping them on defense. We executed well on the offensive end," Iverson said. "We just played an overall great game."
That's something the 76ers haven't been able to say much lately. Saturday's win was just the team's eighth in its last 25 games.
Eddie Jones had 26 points for Miami, which saw its season-high three-game home winning streak snapped. Butler scored 22 for the Heat, but none after the 4:23 mark of the third quarter -- the exact moment when Salmons checked in for the first time.
Butler, who carried the Heat for much of the middle two quarters, only got three shots off in the final 16 minutes. And without him as an option, Miami shot only 5-for-18 in the final quarter.
Miami took a 74-68 lead late in the third quarter, after Jones -- who had a season-high five three-pointers -- made consecutive shots from behind the arc. But the Heat missed 10 of their next 11 field-goal attempts.
"We had all the opportunities at the end to win it," Miami coach Pat Riley said. "In this type of game, there's no room for error."
Salmons scored only three points, but the University of Miami graduate -- playing with his college coach, Perry Clark, in the stands -- simply kept Butler from getting any good looks down the stretch.
"He did a great job on Butler, who's an unbelievable rookie," Brown said. "He's getting better. Good guy. If everyone was like him, everyone would want to do what I'm doing."
Coleman blocked a layup attempt by Butler with 18 seconds left to seal the win.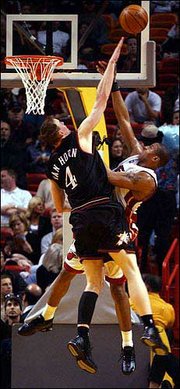 Timberwolves 97, Wizards 89
Washington -- Kevin Garnett scored 13 of his 17 points in the second half, and Minnesota rallied from a 15-point halftime deficit to beat Washington for its fifth straight win.
Minnesota outrebounded Washington 15-2 in the third quarter to tie the game and took control by opening the fourth with a 9-2 run.
The Wizards have lost three in a row and four of five, including their lethargic performance Friday night in Michael Jordan's final regular-season game at Chicago.
Bucks 88, Nuggets 75
Milwaukee -- Sam Cassell scored 26 points and Ray Allen added 21 as Milwaukee beat Denver to reach .500 for the first time in nearly two months. The Bucks (21-21) have won seven of eight, and had not been at .500 since they were 8-8 on Nov. 30.
Milwaukee used a 16-4 run midway through the fourth quarter to pull away from Denver, which has lost four consecutive games and seven straight games on the road.
Spurs 108, Pistons 76
San Antonio -- Tim Duncan scored 22 points and Stephen Jackson added 20 to lead San Antonio past Detroit. The Spurs shot a season-best 61.1 percent from the floor and led the entire way against the Pistons, who came in with the NBA's stingiest defense. Detroit has held opponents to 86 points per game, but San Antonio surpassed that total in the third quarter.
Malik Rose, starting in place of the injured David Robinson, scored 18 points for the Spurs. Tony Parker had 16 points and nine assists.
Duncan grabbed 11 rebounds, while Detroit's Ben Wallace -- leading the league with 15 boards per game -- had only five.
SuperSonics 95, Grizzlies 83
Memphis, Tenn. -- Vladimir Radmanovic scored a career-high 29 points to lead Seattle past Memphis. Radmanovic was 9-of-15 from the field, including 6-of-11 from three-point range, as Seattle snapped a four-game road losing streak. The Grizzlies lost for the fifth time in their last six games.
Seattle hit two early baskets in the fourth period to extend its lead to double digits, and the Grizzlies never got closer than six the rest of the way. Radmanovic connected on three three-pointers in the final 5:33 to seal it.
Hawks 102, Cavaliers 101, OT
Cleveland -- Glenn Robinson scored 27 points, including six in overtime, to help Atlanta beat Cleveland. Shareef Abdur-Rahim added 25 points for Atlanta, which won its second straight after a six-game losing streak. The Hawks won for the first time on the road since Nov. 12 and improved to 3-17 away from home.
Zydrunas Ilgauskas scored 19 points to lead Cleveland, which has lost six in a row and nine of 10. The Cavaliers dropped to 0-2 under interim coach Keith Smart, who replaced the fired John Lucas on Monday.
Warriors 108, Jazz 95
Oakland, Calif. -- Gilbert Arenas scored 27 points and Golden State Warriors beat Utah to win for the fifth time in six games.
Antawn Jamison added 26 points and Jason Richardson 15 for the Warriors, who snapped a seven-game losing streak against Utah. Troy Murphy had 14 points and 11 rebounds as Golden State beat the Jazz for just the third time in 32 tries.
Arenas, who along with Richardson, his starting backcourt, was fined before the game for missing practice Friday, added nine assists and three steals.
Copyright 2017 The Associated Press. All rights reserved. This material may not be published, broadcast, rewritten or redistributed. We strive to uphold our values for every story published.