The Kansas liquor store industry may be the last remnant of the days before Wal-Mart and mega mergers.
The industry is not big business, and it is that way by design. Laws that were put on the state books in the late 1940s prohibit an individual from owning more than one liquor store in the state. Corporations are prohibited from having a license to operate even one liquor store.
The law is both praised and panned within the industry. To some, it is the greatest invention since gin and tonic because it creates one of the few industries where a small "mom and pop" business can still compete.
"I think it is a real fair law. This really is the only industry in the state where an independent can come in and operate and still have a chance," said Joe Schmidtberger, who closed his independent grocery store business several years ago and opened Alvin's Wine and Spirits, 905 Iowa.
To others, the law seems anything but fair.
"It limits my fair trade," said Dan Blomgren, owner of one of the two Cork & Barrel stores in town. "I don't think it is constitutional. If I were a shoe salesman, I could have 10,000 stores, so why limit me because I'm selling liquor? It is a legal product and I sell it to people of legal age."
Looking for loopholes
Blomgren openly admits that he looks for ways to legally get around the law. Blomgren, like many other liquor store owners, essentially owns two stores because state law allows him to hold a license for one store and for his wife to hold a license for a second store.
But there was a time in the late 1990s when Lawrence residents could find three Cork & Barrel stores. That's because Blomgren had some close friends who decided to get into the liquor store business. Blomgren and the friends decided to name all three of their stores Cork & Barrel in order to create some brand name recognition in the marketplace.
Blomgren said state regulators with the Alcohol Beverage Control division were not fans of the idea.
"When I did that, the (expletive) hit the fan," Blomgren said. "They we're breathing down my neck all the time. They didn't like the look of a chain at all."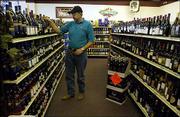 Amy Campbell, executive director of the Kansas Association of Beverage Retailers, said there was a good reason for that. Liquor stores that try to promote themselves as part of a chain are being dishonest with consumers.
Campbell said businesses like Cork & Barrel were trying to capitalize off the popular perception in the business world that chains offer lower prices because they buy in bulk. This perception has driven Wal-Mart's success for decades.
The only problem, Campbell said, is that state law doesn't allow wholesale liquor companies to offer volume discounts to liquor stores. In other words, a small liquor store that buys only one case of Jim Beam bourbon will be charged the same price per case as a large store that buys 100 cases.
The state keeps a close eye on the prices by requiring wholesale liquor companies to post their prices with ABC each month.
"We don't want anybody misleading the consumer base," Campbell said. "We think it is important to realize that an individual owns the store. It's not a Wal-Mart."
Blomgren said he was still not convinced he and his friends had violated regulations by using the same name for all three stores. But he said he eventually decided it wasn't worth the trouble and dropped the Cork & Barrel name from one of the stores.
"I could see what I was in store for if I didn't drop the Cork & Barrel name," Blomgren said.
A new idea
But Blomgren didn't drop the idea of trying to operate more than two stores. When a little over a year ago he decided to open a new store near Ninth and Mississippi streets, he sold one of his two stores to avoid violating the licensing regulations.
He sold the store, Parkway Liquor at 3514 Clinton Parkway, to a Topeka teacher and his friend Kerry Zimmerman. But Zimmerman had no desire to run a liquor store.
Instead, Blomgren negotiated a "management agreement" whereby he would run the day-to-day operations of the store for Zimmerman for a flat monthly fee.
That arrangement also raised the eyebrows of state regulators. Zimmerman in December voluntarily surrendered his state liquor license and shut down the store after ABC officials began an investigation into whether the agreement violated state law.
ABC officials declined to comment on the investigation, but said it was ongoing. No charges have been filed.
The store has since reopened under new ownership, another friend of Blomgren's, but Blomgren said he didn't have plans to do a management agreement with the new owner.
But he also said he didn't think there was anything illegal about the agreements and might do more with other stores in the future if the opportunity arose.
"The law doesn't say one thing about prohibiting these management agreements," Blomgren said. "They've never come close to proving anything illegal has been done."
'Abide by law'
Other liquor store owners and managers in Lawrence have taken notice of Blomgren's bigger-is-better attitude. Not everyone likes it.
"It just sounds like some guy who is trying to monopolize the industry, and I think that's exactly what the law tries to prevent," said Chad Philhour, manager of Myers Retail Liquor, 902 W. 23rd St. "We're just a mom-and-pop operation, and I think this law is what helps us smaller businesses stay around."
Linda Vantuyl, owner of Linda's Liquor, 3032 Iowa, said she didn't think Blomgren's plan was right.
"Since the state says one license per person, you need to abide by the law until it is changed," Vantuyl said.
That's not to say you can't dislike the law. Vantuyl said she thought it was "kind of silly."
Several other Lawrence store owners said they also thought the regulations were too strict.
"In this town the liquor store business is so competitive that it is hard to make it with just one location, unless it is just a really great spot," said Dave Mears, former owner of Discount Retail Liquor, 1805 W. Second St.
He said the rules also seem to be unfair to unmarried liquor store owners because they didn't have a spouse who could hold a second license for them.
"Something is not right with that picture to me," Mears said.
Campbell said the retailers association hadn't taken an official position on the one-license-per-individual regulation. She said some members favored it and others didn't, but that the association was very concerned the regulation be applied fairly to everyone.
She said that was why the group had concerns with management agreements like the one Blomgren was using. She said state regulations needed to become more specific about what's allowable in a management agreement and what's not.
Lisa Kaspar, a spokeswoman with ABC, said the state recently added a section to its regulations addressing management agreements. She said the department did so because of a concern over the increasing appearance of corporate ownership.
Corporations coming?
That's also Campbell's concern. She said if the management agreement issue wasn't properly addressed, it could open the door for corporate giants like Wal-Mart or Walgreens to file a federal lawsuit against the state allowing their corporations to enter the industry.
"If we start letting this slide and say you can operate multiple stores through these management agreements, but don't tell Wal-Mart, then we may have problems with a lawsuit," Campbell said.
She said liquor store owners only have to look as far as Missouri to see what corporate ownership, which is legal in that state, can do to the small, independent liquor stores.
"I think there is consensus that in the urban areas everybody would be buying all their liquor from Sam's Clubs, from Walgreens and from Dillons," Campbell said.
Blomgren said he agreed that loosening the state's liquor laws probably would mean the demise of many small stores, and could even hurt his own business. But he said that was still no reason to leave a bad law on the books.
"Do I as a competing business owner want to see Wal-Mart and Walgreens sell liquor? No. But I think constitutionally they should be allowed to," Blomgren said. "I think we should be like every other business in the state of Kansas. We just have to take our chances with competition."
Copyright 2018 The Lawrence Journal-World. All rights reserved. This material may not be published, broadcast, rewritten or redistributed. We strive to uphold our values for every story published.