Kansas University's basketball team wasn't the only Jayhawk squad to start fast and stall out Saturday.
The KU swimming and diving team captured titles in the first two events of its double-dual with Colorado State and Minnesota at Robinson Natatorium, but the Jayhawks claimed only one more win in the 14 remaining events.
"It really was a lot like the basketball game," said KU coach Clark Campbell, whose team improved to 7-4 in dual meets this season behind a 174-125 win over CSU and 189-110 loss to the undefeated Gophers. "They were really excited and fired up to start, but then I think things were too emotional, and they began to press."
One Jayhawk feeling the heat in particular was Beth Schryer.
Schryer's urgency to win didn't come from the emotional return to Robinson. Instead, the senior's last semester of swimming was more than enough motivation.
"This isn't like the NFL or NBA, where college players can move up. This is the highest level it gets in swimming," Campbell said. "Beth is definitely making the most of her last year."
More accurately, she's making the most of her last semester. She won the 1,000-yard freestyle Saturday for the second time in two races since the start of the second half of the season last weekend.
"It feels great," said Schryer, who competed in the 2000 U.S. Olympic Trials. "I'm really starting to get things going."
Schryer, an Arvada, Colo., native, battled Crohn's disease -- an inflammation of the small intestine -- as a junior.
As a senior, she has struggled adjusting to swimming under her third coach in four years.
"It's been a difficult stretch," admitted Schryer, a four-time All-American in high school.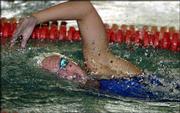 But a team training trip to Mexico over winter break and renewed goals of qualifying for the NCAA meet have Schryer swimmer as fast as ever.
"I'm really making my mark to make it into the NCAA meet," she said. "That's what I'm pushing for each time out, to better my seed in the Big 12 championship and to qualify for the NCAA's."
While Schryer's specialty stroke is the 1,000, that race isn't included in the Big 12 championships. Instead, Schryer will have to gear up for the more grueling mile race, where seeding -- Schryer's currently ranked third -- can play a pivotal role.
"That's what these races are for," Campbell said. "But it's really been neat to see the rekindled spirit Schryer's brought these last few meets."
In addition to Schryer, Kansas' other individual winner was Amy Gruber, who took the 50-yard freestyle in a time of 24.31. Kansas' 200-yard medley relay team of Julie Ottmar, Gruber, Kristen Johnson and Jackie Krueger finished first with a time of 1:47.84.
Senior Gwen Haley was second in both the 200-yard butterfly and 200-yard individual medley.
Copyright 2018 The Lawrence Journal-World. All rights reserved. This material may not be published, broadcast, rewritten or redistributed. We strive to uphold our values for every story published.