Pontiac, Ill. — For 15 years, Danny Edwards has lived alone in an 8-by-13-foot cell, where his only neighbors have been men like him -- waiting to die for crimes committed across Illinois.
Their only contact has been in small groups for a single hour a day and always in view of armed guards who watch their every move.
Now, all that is changing.
Three days before Gov. George Ryan left office earlier this month, he began clearing death row by commuting the sentences of all 167 condemned inmates to life in prison, most without a chance of parole. Even Edwards, sentenced to die for the 1987 kidnapping and murder of newspaper publisher Stephen Small, who was Ryan's neighbor in Kankakee, was spared despite his own refusal to request clemency.
Ryan's announcement has been celebrated on death row, but that optimism has been tempered with uneasiness as the inmates now prepare to leave the relative security of the condemned unit to join the general population.
They will get cellmates, and they will no longer be insulated from the gang activity and violence present inside the state's prisons.
"You know what the population is like," Edwards said in an interview from death row at the century-old maximum-security prison in Pontiac. "It's no secret. It's a lot different than being here."
"I'm going to a whole new world," he said.
That also worries Ronald Kliner, who had faced execution for a 1988 murder-for-hire in Chicago.
"I'll just keep my faith in God, which I've done for 10 1/2 years," Kliner said. "There's really nothing else you can do."
The governor's action already has restored some freedoms, such as meeting visitors without handcuffs. Kliner and Edwards both said they hugged their mothers last week for the first time since they were sentenced.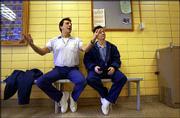 They say Ryan's ruling also has bought them time they can use to prove their innocence.
"I know when I'm vindicated and walk out the door, I have to thank Gov. Ryan because if he hadn't done what he did, I could have been executed," Kliner said.
Pontiac's condemned unit won't be vacant for long. Ryan's order only applied to those already sentenced, and several capital cases are pending.
New Gov. Rod Blagojevich has said he will continue the moratorium on executions that Ryan set in 2000, but he has no plans to commute more sentences.
Despite their worries about life in the general prison population, Kliner and Edwards both urged lawmakers to think seriously about Ryan's parting message and reconsider keeping the death penalty.
Edwards cited Ryan's argument that 17 death-row inmates had been cleared since capital punishment was reinstated in Illinois in 1977.
"That's 10 percent. If United Airlines planes crashed 10 percent of the time, would you fly United Airlines? If the system is wrong 10 percent of the time, do something different," he said.
Edwards, 46, was among about 20 condemned inmates whose sentences were commuted even though they did not file clemency petitions. He even wrote two letters asking Ryan not to commute his sentence.
Ryan said Edwards' opposition was evidence that life in prison is an unappealing alternative, but Edwards, who is awaiting a federal court ruling on a new trial, said he had a different motive.
"I think the federal court will overturn my conviction and give me a new trial. So I'd rather skip all of that hoopla and go from the condemned unit back to court and hopefully home," he said.
Kliner is awaiting DNA tests on hair samples that he thinks will earn him a new trial.
Both said they sympathize with the families of victims, who had to relive their tragedies through weeks of clemency hearings last fall.
"I just became a grandpa last week, and I think, 'What would I want if someone murdered my daughter or grandbaby or my mother and father?"' Edwards said.
Kliner urged victims' families to keep open minds.
"There's another side to every story," he said. "And if someone is innocent like myself, do you want me to spend the rest of my life in prison or die for something I didn't do?"
Copyright 2018 The Associated Press. All rights reserved. This material may not be published, broadcast, rewritten or redistributed. We strive to uphold our values for every story published.