The realization came at a nursing home, and it was delivered, accidentally, by a woman in her 80s.
The best year of her life was when she was 55, the woman told a friend.
The kids were grown. She and her husband had free time to pursue their own interests.
And the sex, she said, was great.
"It was one of those light-bulb moments in my life," recalled Isla Richards, who overheard the conversation. "I always thought 16 was the best year."
These days Richards thinks the woman in the nursing home may have been right. At 68, the Lawrence resident stays busy at The Oaks apartment complex, where she is a part owner. A registered nurse, she takes water aerobics and classes on holistic health -- a recent one focused on cranial massage. She goes out with friends, both men and women, often.
And without trying, perhaps even without knowing, Richards is part of a generation of women who some say are changing the way their gender views aging.
The Red Hatters
On a recent Saturday morning the private room at Perkins Restaurant was loud in volume and color.
About 20 women in red hats and purple outfits -- including at least one feather boa -- sat around the table, drinking coffee and chirping away.
Their group: The Red Hat Society, an international organization for women over 50.
¢ Stay as active as you can, not just physically but mentally and socially.¢ Be a saver. Savers are found in all income brackets, at all ages.¢ Live within your means.¢ Keep the connections to family, friends and community alive and strong.

Source: National Center on Women and Aging
Their mission: nothing at all.
"Red Hatters are very unorganized," said Jean Bonner, who co-founded the Lawrence La La Lassies chapter with Colleen Ellis.
The only rule is that you have to be at least 50 to wear red and purple -- younger women wear pink and lavender -- and at $5 a year, the dues are minimal.
Officially, the group's only purpose is to have fun, which they do in style: trips to Branson, Mo., lunch around town, Valentine's Day parties.
The Society was inspired by the poem "Warning." Written 40 years ago by then 29-year-old Brit Jenny Joseph, it begins, "When I am an old woman I shall wear purple/With a red hat which doesn't go and doesn't suit me."
It goes on to celebrate the freedoms that come with age: picking other people's flowers, spending pensions on brandy, and eating anything at all.
'Have some fun'
A woman in California started a Red Hat group in 2000, and the organization has since grown into at least 12 countries. Two Lawrence groups are officially registered on the society's Web site, and Topeka has six chapters. Kansas City, Kan., has four.
The organization had a national convention last year, and the Blue Rapids-Waterville chapter is planning the first state convention, set to take place in Manhattan in March.
The group's popularity is due to its being exactly what women in the over-50 crowd are after, said Marilyn Graham, a member of The Kaw Girls, a Topeka chapter.
"We've all got this side of us that is very business-like and duty-bound and responsible," she said, but the Red Hat Society gives women a legitimate reason to be loud, goofy and obnoxious.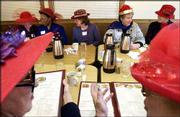 Concerns about marriage or raising children have pretty much been resolved. The obligations to teach Sunday School or chaperone a field trip have been fulfilled. The mortgage is paid off. Jobs are secure.
"It's just a good age to let your hair down and have some fun," Graham said.
Unofficially, the group fills a number of roles.
It's a way for women, many of whom have lost friends or spouses, to network and stay active, two things experts said were key to aging with grace.
With hard-to-miss hats, it puts a group often ignored by society in the public eye.
And it provides reasons to welcome, rather than shirk, old age.
A new outlook
Yet there's no doubt the change in attitudes toward aging is gradual.
In some ways groups like the Red Hat Society are just a modern spin on the sewing circles of yesteryear, said Judy Kobel, a Kansas City, Mo., Red Hatter.
There are still a lot of women who hide their age and dread every birthday, Bonner said.
And if the prevalence of cosmetic surgery is any indication, older women still have a hard time facing the mirror, said Arnaa Alcon, associate director of The National Center on Women and Aging at Brandeis University.
But the one constant in almost every survey is that today's seniors -- both men and women -- want to age differently than did their parents, said Melane Kinney Hoffmann, director of health campaigns with AARP in Washington, D.C.
"By that they mean they see their parents' generation as aging in a frail way, becoming sedentary, having completely retired from work and then sitting back and watching the world go by," she said.
The prevalent attitude is that age means decrepitude, she said, because that's what many women saw happen to their mothers. But women who maintain their health usually also maintain positive attitudes.
Furthermore, more than 50 percent of women say the aging experience is better than they expected, Alcon said, pointing to a study the center published in November.
Graham said her mother became more subdued as she aged, and while today's women might not embrace the gray hair and wrinkles, neither are they bemoaning them.
"It's definitely different," she said.
Women today feel younger longer, said Richards, a newcomer to the Red Hat Society.
"My mother thought she was middle-aged at 40 and old at 60," she said.
Maybe it's because women today are healthier or because they have more elderly mentors.
Or maybe, she said, it's because the older women of the 21st century spent most of their lives in the work force and aren't yet ready to settle down.
Richards shook her head at the thought of her mother joining an organization like the Red Hats.
"My mother was a farmer's wife in a small town," she said. "There were a lot of boundaries."
The baby boomers
In the late 1950s, Richards was marching a picket line at 11th and Massachusetts streets, protesting the exclusion of blacks from a local restaurant.
Today she's looking for a "suitable" purple dress, and with a twinkle in her eye, she's staring old age in the face.
On the older end of the baby boom generation, Richards and women like her have spent their lives questioning the status quo. And they aren't stopping.
"This generation of women has been through more change than ever," Kinney Hoffmann said.
They were the first to balance careers with families. They broke the glass ceiling. They saw social activism make a difference. Their long hair turned gray, but stayed long.
And their survival through it all has given them confidence, she said: "You'd almost call it self-efficacy."
Plus, they have numbers in their favor.
America's oldest generation is also its fastest growing, which means today's older women collectively wield a lot of economic power, and when they hit up against an injustice, Alcon said, they do something about it.
"I think there's an attitude that we have power because there's so many of us," she said.
Yet despite there being more books about menopause than ever before, Alcon said society had not necessarily kept pace with women's changing perceptions.
Older women often have high levels of financial insecurity. Many are divorced, and having raised fewer children, many live their last years alone. Agism is rampant.
Many women surveyed were surprised to be subjects of a survey, Alcon said, their demographic being so often ignored.
But true to their years of activism, they were eager to participate. Several were hard to get off the phone, Alcon said, and society needs to find a way to channel the energy women have to contribute.
The over-50 crowd wants to be listened to, she said. "That's why they're wearing those red hats."
Copyright 2018 The Lawrence Journal-World. All rights reserved. This material may not be published, broadcast, rewritten or redistributed. We strive to uphold our values for every story published.