She grew up in Independence, Mo. -- the little girl who wanted to be a nurse.
But as young as 6, she couldn't wait for her mother to leave her with the sitter so she could play on the family sewing machine.
Paula Varsalona later made her own homecoming and prom (eyelash velvet and chiffon) dresses, and in her high school junior year, realized design was her real passion. She studied at Washington University in St. Louis and almost flunked out her first year because she could drape but not draw.
"I couldn't draw my hand in class," she says. "Once we got into fashion, I was at the top of my class."
Today she can boast long-term survival in an industry not known for everlasting success. Since 1978, she has headed a signature bridal wear company and presides over a spacious New York City showroom in the center of Midtown's commerce district.
Her name is a familiar constant in the wedding fashion arena, and four years ago she opened her own retail shop on posh Madison Avenue near such illustrious retailers as Giorgio Armani, Ralph Lauren and Valentino.
On the second floor at the end of a long, narrow staircase, the boutique is decorated in the lighthearted, colorful MacKenzie-Childs style reminiscent of a child's storybook. "I wanted it to be whimsical," she says, "which weddings are. They are a fantasy."
Recent clients include actress Angelica Bridges. The soap opera "All My Children" leased 30 dresses for a wedding segment last year. She supplied the gowns for the movie "Brown Sugar."
And when NBC's "Today" show sponsored its annual interactive wedding last summer, one of her gowns was in the finals.
Changes over the years
This sunny fall day in New York, Varsalona emerges for an interview from a back room of her showroom in a pink sweat suit and little makeup. She passes rows of racks holding gown after gown of white tulle, taffeta and lace and settles into a hardback chair.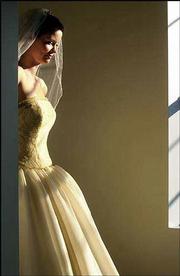 The fashion in wedding gowns changes, of course, but not with the trend-crazed frequency of ready-to-wear. A recent influence was the romantic historical costumes of the film "Titanic," Varsalona says. Strapless silhouettes remain popular after six years. And her gowns frequently are embellished with subtle, intricate detailing such as embroidery, pearls, stones and lace. And although white is mostly the color of choice, Varsalona makes a point to "do a little bit of color to break the monotony." Her gowns cost from $1,500 to $3,000.
She came to New York after graduating from college. A friend sent her to see a sportswear executive, who referred her to a bridal house. She worked there three years and decided she could do it herself. "It was very hard in the beginning. I only had $20,000 to start, and I had to stretch that for everything. I had no money coming in for quite a while."
Her first order was from a small store in New Jersey. And, she recalls, "It was just overwhelming."
The business has changed considerably over the years, she says. Brides tend to be more demanding and intense. "Twenty or 30 years ago, a bride tried on three dresses. Now, most go to 10 places and try on 10 dresses. I've had a girl try on over 100 dresses," she says.
"It becomes such an event in their lives. They get on the Internet and research. They become obsessed with everything -- the flowers and the cake. ... I have spent up to eight hours with a bride."
Her assistant, Jude Gonzalez, comments on conflicts between brides and their mothers. The mother likes the gown. The bride does not. Or vice versa. "One mother was so unkind to her daughter. She said her daughter looked like a washer woman in the dress."
Ninety-eight percent of the brides "are lovely," Gonzalez says. "But it used to be more fun," Varsalona says.
Also on the downside, money is tougher to collect from consumers, who frequently go over their budgets and are pushed for funds. And American bridal wear designers in general have been hurt by copies and imports in a wide price range.
Fast-paced life
Varsalona's personal and professional lives are both hectic. She commutes by car about two hours ("in traffic") round trip from her home in New Jersey, where she lives with her 10-year-old daughter, Alexandra -- "who wants to wear jeans"-- and husband, attorney Joseph Marino. She met Marino in college in St. Louis and married him in a Kansas City ceremony, wearing Brussels lace.
She is always on watch for trends. "I see about every movie that comes out," she says. And she reads voraciously.
It's not unusual for Varsalona to stay late in the city to attend a charity event. The following night, for example, her calender includes a gala hosted by St. John Knits in which Conde Nast publishers were honoring Aretha Franklin.
Her own favorite causes include Mount Saint Dominick Academy and Caldwell College in New Jersey and Avila College in Kansas City. Aware of the difficulties of starting out in the business, she tries to devote time to helping students at New York's Pratt Fashion College and Fashion Institute of Technology in New York.
Meanwhile, back in Independence her father, Paul Varsalona, remembers the years he watched his daughter develop her talents. "I told her I would buy her material for all the clothes she could make.
"She said, 'That's great. Give me $20.' I said, 'No. You have to bring me the finished product.' She was amazing. She would go buy it (fabric) in the morning and have it made by that night," he says.
Copyright 2018 The Lawrence Journal-World. All rights reserved. This material may not be published, broadcast, rewritten or redistributed. We strive to uphold our values for every story published.