San Diego — No tyrant ever prepared less for his own succession than Al Davis.
As rumors continued to swirl on Super Bowl eve that the 73-year-old Raiders owner would ride into the sunset on the back of a fourth title, Fred Biletnikoff simply smiled. The former Oakland great and receivers coach loved the idea his boss might be putting another one over on an unsuspecting public.
"He's taking this as far as he can take it," Biletnikoff said, "and then some."
Either way, one measure of how unconventional Davis remains can be gleaned from the name most often mentioned as his successor. It belongs to Amy Trask, the first and only female chief executive of an NFL team.
Insiders think she would team with Oakland senior assistant Bruce Allen, the son of former coach George Allen, to ensure the Raiders commitment to excellence endures after Davis vacates his office.
Asked if she was interested, Trask replied with Davis-like inscrutability.
"I'm a Raider," she said. "My goal hasn't changed since I got here: to be part of this organization in its efforts to win a Super Bowl. That will never change."
Five minutes is all it takes to figure out what the eccentric owner liked so much about the lawyer he hired 16 seasons ago. Trask is focused, fast on her feet, detail-oriented and as passionate about the product on the field as the supersized players and coaches she calls out to as they lumber past.
"We'll talk football, but we haven't had any deep discussions about how to play my position," lineman Lincoln Kennedy said. "What I do know is this: She can talk like a sailor sometimes."
That's hardly the only expectation the petite, 40-something Trask has managed to shred.
"I used to buy tickets for my dad at the holidays so he'd take me to games," said Trask, who fell in love with football in junior high.
Trask liked the spectacle, but that was secondary.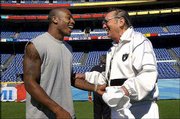 "The matchups, the strategy, the intellectual and physical parts of the game," she said. "That's what fascinated me."
Destiny, too, played a role in her choice. It turned out that Trask's academic career moved in lockstep with the Raiders. Raised in Los Angeles, she started attending games in Oakland while working on a bachelor's degree at UC Davis in the late 1970s. She also put in a brief stint as an intern with the club there.
After graduation, Trask headed south for law school at USC in 1982, the same year the Raiders moved from Oakland to L.A. That's when she took advantage of the proximity and joined the team full time.
Last October, Sports Illustrated recounted Trask's rise from legal assistant to the most powerful woman in the game. She was portrayed as Al Davis in heels, the princess to his Prince of Darkness, a fearless front-office battler who shared Al's delight in mixing it up with his NFL contemporaries.
Exhibit A was a screaming match in 1997 with then-49ers president Carmen Policy, when she shrugged off commissioner Paul Tagliabue's pleas to stop. But that paled alongside the tirade that Trask threw last January while referees looked at replays just before the notorious call in the Raiders-Patriots AFC divisional playoff game.
Yet the last thing she's about to do is apologize for bringing that kind of emotion to her work.
"People find out I work for the Raiders and they assume what I do is strictly business," Trask said. "So there are times I have to remind them that our business is football."
Ditto on those occasions when someone remarks how unusual it is to encounter a woman with such broad responsibilities in what remains a man's world.
"I can't let things like that bother me," Trask said. "It's wasted energy. I don't focus on gender because I don't want other people to focus on it."
Still, her childhood hero was Rosa Parks, and there isn't a more fervent defender of the Raiders' longstanding tradition of hiring the best and brightest, regardless of color, gender or age.
Leaving out her own climb to the top, Trask ticks off some of the Raiders' other firsts -- Tom Flores, the league's first Hispanic coach; and Art Shell, its first black coach. It turns out she's only warming up.
"All those firsts -- those are not coincidence. They're things Al never gets enough credit for. This organization is known, too, for giving players second chances, and in some cases, third chances and fourth chances. You can be labeled a 'malcontent' elsewhere, come here and find a home. And I don't want to overstate it," Trask said, "but I believe this country was founded on the premise of second chances."
With that, Trask sits back in a chair, unfolds her hands and takes in the morning breeze gently sweeping past. Another handful of players walks slowly by.
"One more thing I believe very strongly," Trask said. "Either you're a Raider or you're not."
Copyright 2018 The Associated Press. All rights reserved. This material may not be published, broadcast, rewritten or redistributed. We strive to uphold our values for every story published.