JACKSONVILLE, FLA. — Dick Braendle isn't a judge, a lawyer or even a courthouse worker. But for the past seven years, he's attended all or part of more than 1,000 criminal trials and hearings.
Braendle, a 79-year-old volunteer court watcher for a victims' rights organization, spends 35 to 40 hours a week monitoring trials, helping crime victims and educating himself about the intricacies of the law.
In the Duval County Courthouse, he's constantly on the move, dropping in to listen to testimony, then moving down the hall to hear opening statements, or stopping by to listen in on arguments in a death appeal hearing.
Many days, Braendle can be found sitting near the front of a courtroom, his legs crossed and one of his arms on the back of the bench while attorneys question witnesses and argue points of law and juries deliberate. Often Braendle will sit with the families of victims.
"I explain to them what is going in the court and what the procedures are," he said.
The family of a Georgia woman murdered in Jacksonville did not want to attend her killer's sentencing. Braendle called family members to tell them the man was sentenced to life without chance of parole.
Attorneys from both sides like to see Braendle in court because he provides perspective on how well attorneys are arguing their cases, said defense attorney Wayne Ellis, who was a prosecutor for 22 years.
"I run to him to find out what is going on in the courthouse," Ellis said.
Braendle "has educated himself to the point that he knows the law. He helps victims of crime know that someone cares," said Ann Dugger, victims' services practitioner for the Justice Coalition, which Braendle serves as a volunteer. The coalition is an anti-crime and victims' rights organization in Jacksonville.
The Jacksonville-Duval County Council on Elder Affairs honored Braendle as the Mayor's Senior Citizen Man of the Year in 2001 for his volunteer work.
"He spends more time at the courthouse than a lot of the judges do," said Bill Gay Jr., vice president of W.W. Gay Mechanical Contractors and a former Justice Coalition board member. "The victims know they have someone on their side."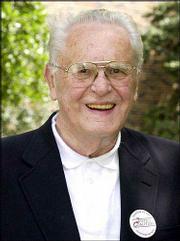 When he was young, Braendle had little interest in the law, although it supported his family. Braendle's father was a law book salesman for West Publishing in Philadelphia.
Braendle was more interested in chemistry. He graduated from the Massachusetts Institute of Technology and worked with uranium at Oak Ridge, Tenn., in the Manhattan project.
He retired in 1984 after 41 years with DuPont, the last 13 as director of the company's Petroleum Chemical Division. In 1989, Braendle and his wife of 57 years moved from Wilmington, Del., to Ponte Vedra Beach.
The retired chemist enjoyed watching Court TV. He installed a satellite dish on his home so he could watch the dramas played out daily in the courtroom, including the 1995 murder trial of O.J. Simpson.
When an insurance company refused to settle a $600 claim after a 1995 automobile accident, Braendle decided to take the case to small claims court. Braendle, representing himself, won.
A newspaper reporter introduced Braendle to Ted Hires, the founder of the Justice Coalition, who was looking for volunteer court watchers. Since that time, Braendle commutes 52 miles a day and spends about five days a week listening to cases.
"I give him credit for his dedication," said Jay Plotkin, chief assistant state attorney.
"He's the smartest man I know, besides the judge," said Linda Davis, secretary for Circuit Judge Charles Arnold.
Copyright 2018 The Associated Press. All rights reserved. This material may not be published, broadcast, rewritten or redistributed. We strive to uphold our values for every story published.