New York — How well do you know New York City's neighborhoods? Here's a quiz.
What borough is home to:
(A) Yankee Stadium
(B) A historic seafaring community with waterfront promenades and a quaint main street where church bells ring and shopkeepers roll up canvas awnings at night.
(C) A French country inn operated by one of New York's top chefs.
If you're puzzled, take the No. 6 train north from Manhattan to the last stop at Pelham Bay Park, transfer to Bus BX 29 and cross a causeway over a 100-year-old bridge onto a 1.5-mile-long patch of land in the western end of Long Island Sound.
Book a room at Le Refuge, a B&B; in a 19th-century Victorian sea captain's house, and sip a French beer by the fireplace. Spend the weekend browsing antique shops, art galleries and eating Maine lobster. Take in a flea market at one of the local churches, walk in the park, watch the seagulls flutter across a 300-year-old harbor and breathe the salt air.
Welcome yourself to City Island, the Seaport of the Bronx.
Just a half-mile wide, this 230-acre island is on the edge of New York City in a borough known for its housing projects and run-down tenements. But stroll along its graceful waterfront or relax in the candlelit dining room at Le Refuge, and you'll feel more like you're in a small town in New England or a village in France.
"It's a part of the Bronx but it's different," explains John Vaughn, 50. He sells produce and eggs at JV's Fruit and Vegetables on City Island Avenue, a Mayberry-like main drag that runs the length of the island and takes no more than a half-hour to walk. "You go across that bridge," says Vaughn, "and it's a different world."
Nautical history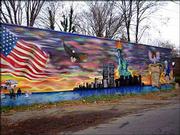 New York State has tapped 17 communities along Long Island Sound as historic maritime centers; City Island is the only one that is part of New York City. Ask the average New Yorker about it and chances are you'll get a blank stare. Yankee Stadium or the zoo are about as far into the Bronx as most venture. But City Island has a rich nautical history and boaters and locals know it for its marinas and seafood restaurants.
A community of 5,000, the island served as a U.S. Coast Guard station in World War II. City Island was settled by the English in 1685, and was once viewed as a possible port to rival New York's.
"It didn't work out that way," recalls Tommy Nye, 52, a fifth-generation islander who works for UK International, a sailmaker specializing in mainsails for luxury yachts. "But it did develop into a seaport of a different type."
Locals began fishing and building boats, and City Island became a major shipbuilding and yachting center.
Five winning America's Cup sloops were built here before the boat-building business declined. Things changed as condos replaced boatyards, and Manhattanites showed a willingness to pony up $300,000 for beach bungalows that once sold for $3,000. Today commerce revolves around pleasure boating, fishing and restaurants.
Friendly locals
Drive to City Island on a nice weekend and you'll be stuck in a parade of cars heading to Belden Point and its huge fish restaurants with enormous outdoor decks.
"You can't really appreciate it until you've been here in summer," Nye says. Maybe, but most out-of-towners are probably better off exploring City Island on an overcast weekday in the off-season, as my husband and I did recently. Without the crowds, we discovered a small town filled with friendly locals, many of them lifelong islanders.
At Corona's Hidden Treasures, John Corona makes stained-glass windows for some of the local restaurants. His wife, Carolyn, is in charge of the shop they've operated on City Island Avenue for 30 years.
"We keep reinventing ourselves," to keep up with the changes, she says. Right now, the merchandise leans towards a maritime theme popular with tourists -- wooden model ships, fishing nets, shells and English "witch balls," hollow glass spheres said to ward off evil spirits of the sea.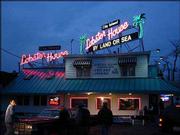 A few doors away, Robert Roberge, 82, spends his days behind an antique desk at Mooncurser Records. His dusty shop is stocked floor-to-ceiling with a collection of 100,000 vinyl records, 12,000 pieces of sheet music and antique toy musical instruments. "It's a hobby," he says. Among his prized possessions: A framed picture of himself and jazz singer Etta James.
Food and lodging
Most visitors are day-trippers, but spending the night at Le Refuge is worth considering, not only because it's the only place to stay on the island, but because it's unique among lodgings in New York City.
Pierre Saint-Denis, a professional flutist and owner of Le Refuge restaurant on New York's Upper East Side, opened the inn in 1992 as a getaway for New Yorkers too busy to leave the city. Candlelight dinners and a breakfast of croissants and coffee are served in a cozy downstairs dining room. Upstairs bedrooms with waterfront and garden views are furnished with antiques, and the hallways decorated with dried flowers and framed copies of old French newspapers.
No one leaves City Island without eating at least one lobster dinner, but knowing where to go is tricky. The sprawling places on Belden Point, such as Johnny's Famous Reef, with its acres of picnic tables, and Tito Puente's, known for its Latin jazz, are normally packed on weekends with Bronx and Queens residents.
We settled on a homey-looking yellow cottage called the Original Crab Shanty. There was no view, but the drinks were big, the booths comfy and the waitress had no problem with two of us sharing the $14.95 lobster special.
"The lobster come from Maine this time of year, and all of the places basically serve the same thing. The main difference is atmosphere," a man who cleans lobster tanks for all of the island's restaurants told me later. He lives in the Bronx -- on the other side of the bridge -- and he often brings his family here for dinner.
"It's a quirky little island," he smiled. "It likes to think of itself as a little Nantucket."
Getting there: To get to City Island via public transportation, take the No. 6 train north from Grand Central Station in Manhattan to Pelham Bay Park, the last stop. Transfer to City Bus BX29 toward City Island. The trip takes about an hour from Midtown by subway and bus and about 20 minutes by car depending on traffic. Taxi fare from either airport is about $40.Lodging: Le Refuge, 620 City Island Ave., is the only place to stay overnight. Rates range from $75-$150 a night with breakfast. Eight rooms (most with shared bath) and a cottage. Rooms are comfortable, but the plumbing and the shared bathrooms need updating. Reservations: (718) 885-2478 or see www.leRefugeInn.com.Dining: Le Refuge Inn is the island's fanciest restaurant, with prices and atmosphere to match. The setting and French cuisine make it worth the splurge. Fixed-priced dinners are $45; individual entrees, $19-$28.50. Sunday brunch is $19.50. Reservations: (718) 885-2478.Seafood specialists: Johnny's Famous Reef, 2 City Island Ave., is New York Magazine's top choice for a fried-fish feeding frenzy. Big, cheap and informal. Phone: (718) 885-2086. More upscale, but still family-oriented is the Original Crab Shanty, 361 City Island Ave. Phone: (718) 885-1810. Fancier and more expensive is the Sea Shore Restaurant, 591 City Island Ave., with a fireplace bar. Phone: (718) 885-0300.Local scene: Locals like City Island Diner, 304 City Island Ave., for its omelets, pancakes and waffles. Phone: (718) 885-0362. My favorite was the Black Whale, 279 City Island Ave., a cozy neighborhood spot with wood floors, eclectic furnishings and an earthy menu featuring pan-roasted crab cakes, cider-brined pork chops and creme brulee. Phone: (718) 885-3657.Information: Contact the City Island Chamber of Commerce at (718) 885-9100 or see www.cityisland.com. Stop in at Port of Kall Realty, 626 City Island Ave., next door to Le Refuge. Pick up a free map and chat with Jacqueline Kyle Kall, 77, a third-generation islander who knows everything about the island's history.The City Island Museum, 190 Fordham St., has photos and displays tracing the island's nautical history. The museum is open Sundays, 1 p.m. to 5 p.m.
Copyright 2018 The Lawrence Journal-World. All rights reserved. This material may not be published, broadcast, rewritten or redistributed. We strive to uphold our values for every story published.