Forth Worth, Texas — Dr. Susan Sward vividly recalls the first time she prescribed mother's milk to treat a very sick, premature baby.
The 3-pound infant had developed necrotizing enterocolitis -- a severe infection of the intestinal tract -- and lost a large part of her bowel. Her intestines were so inflamed and swollen that, at one point, her abdomen had to be left open for several weeks following emergency surgery to remove sections of her colon.
"She was 7 days old when she got sick, and I could never adequately feed her in seven months of trying," says Sward, a neonatologist at Harris Methodist Fort Worth Hospital. "We tried all kinds of special formulas and combinations of formulas, but she could never tolerate any of them. She had a total of six surgeries. At times, she was so sick, I really thought she wasn't going to make it."
Finally, Sward contacted the Mothers' Milk Bank at Austin, Texas, and ordered an emergency shipment of breast milk. The first 3-ounce bottles of frozen milk arrived the next day.
The baby went home three weeks later.
"We were all shocked that she tolerated it so well, immediately," Sward says. "Every day she got better and took more milk and started growing and thriving. When we sent her home, Medicaid agreed to cover the cost of the breast milk on an outpatient basis. The Mothers' Milk Bank shipped it from Austin directly to her home."
Fulfilling a need
The idea behind a milk bank is to provide breast milk for premature and sick newborns whose mothers cannot provide enough of their milk. Currently there are only six such milk banks -- four community- and two hospital-based -- in the nation. Proponents of milk banks note that in addition to being far easier to digest than any substitute, mothers' milk is more nutritious and contains antibodies that fight illness-causing bacteria in the bowel.
While as many as 15 percent of neonatal intensive-care patients develop necrotizing enterocolitis, Sward says, fewer than 2 percent of those patients who start life on breast milk develop the deadly disease.
The Mothers' Milk Bank at Austin was established three years ago to collect, screen, process and dispense by prescription human milk donated by nursing women, and already MMBA is serving babies in the neonatal intensive-care nurseries at 14 Texas hospitals.
The bank also answered the call from Wichita when six healthy babies were born there last April, about six weeks premature. Their mother was able to nurse but couldn't produce enough milk to keep up with the unusually high demand.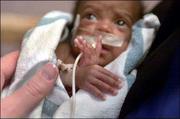 Now Sward is organizing a community milk bank to serve Fort Worth-Dallas -- with the full blessing of the busy Austin bank. She hopes to be in operation here by the end of April.
"We are thrilled that Dr. Sward is starting a milk bank in Fort Worth. We know it will greatly benefit the premature babies in that area," says Gretchen Flatau, executive director of the MMBA, which processed and dispensed about 85,000 ounces of milk from more than 200 donor mothers in 2002.
"One of our primary goals is to help start other milk banks," says Flatau. "While we ship pasteurized milk all over the country, we recognize that is not the most efficient way. It clearly is easier and more cost-effective to collect and dispense milk within a limited area."
High costs
Several hospital-based banks have closed in the past few years because of administrative cost-cutting measures.
"This doesn't make any money," Sward admits. "Hospitals absorb the cost as part of patient care in the neonatal intensive-care nurseries if the doctor prescribes breast milk, and it's expensive. Austin charges $3 per ounce to process it, but that covers only about half their cost of operation."
Still, a breast milk bank can, she argues, help a hospital save money in the long run. Cost savings are due to the fact that babies go home sooner and require less medical and surgical treatment while they are in the hospital.
"We target the smallest babies, and when they are fed breast milk for the first month, we save $11 for every $1 we spend on donor milk. When they get breast milk for the first two months, we save $20 for every $1 we spend," Sward says.
Donor milk is often prescribed for pre-term babies -- especially those who are born very early, at 26 or 27 weeks' gestation -- whose mothers cannot nurse them for one reason or another, including illnesses, medications, substance abuse, poor social support or simply the inability to produce adequate amounts of milk.
A setback
Kelley Jackson of Fort Worth breast-fed her first two children and wasn't planning on having any more when she decided to have breast reduction surgery eight months after the birth of her second son.
"I had been having humongous backaches and shoulder pain, but I waited because my doctor told me that there was a risk that I might not be able to breast-feed after reduction surgery," Jackson says. "I waited until I thought I wasn't going to have any more children."
¢ Breast milk provides some protection against many viral and bacterial illnesses, such as colds and ear infections.¢ Breast milk is gentle on a baby's system and easy to digest, and decreases the incidence of constipation, stomach upset and diarrhea.¢ Breast-fed babies have fewer allergies.Source: "Avent America's Breastfeeding Guide."
Then, along came Lillianne, born seven weeks early on Nov. 14, 2001 -- five years after her mother's breast surgery.
"I just prayed all while I was pregnant with her that I would be able to breast-feed her. Then, when she was born premature, I was more anxious than ever because she was a preemie," Jackson recalls. "I have a friend whose baby is 2 months older, and when Lilly was born, I said, 'Every time you nurse your baby, I want you to say a little prayer that I will be able to nurse mine.' She said, 'OK, but if you can't nurse your baby, I will share my baby's milk.'"
Jackson began meeting with lactation consultants at the hospital the day Lilly was born.
"I was trying to pump, and the nurses all tried to help me, but we just couldn't get the milk out," Jackson says. "I could make milk, but I couldn't get it out. Finally my surgeon called and said, 'We've been looking over your file, and I'm afraid the pathways were destroyed.' "
Jackson had no reservations about accepting her friend's milk, but Lilly was still in the hospital, and the doctors and nurses in charge of her care were concerned about the added liability.
At that point, Lilly's doctor volunteered the fact that the hospital had some frozen, pasteurized breast milk in storage that had been ordered from the Mothers' Milk Bank at Austin for a set of premature triplets, whose father changed his mind about giving his babies milk from unknown donors.
"We jumped at the chance of getting it for Lilly," Jackson says. "I definitely wanted to breast-feed her, but I kept thinking if I can't do that, what's the next best thing? She was about a week old by then and having a lot of trouble digesting any kind of formula. She did just great on the donor milk. I know she got out of the hospital sooner because she was on breast milk. My due date was Jan. 3, and everyone said, if she's home by Christmas, be grateful. We took her home Dec. 10."
'Super milk'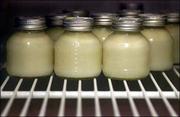 Two days after she got home, the milk originally ordered for the triplets ran out and the mother again tried preemie formula.
"She hated it," Jackson says. "It would take an hour for her to choke down the formula, then she would throw up every bit of it."
Finally, Jackson called the MMBA and told a milk bank employee how well her baby had done on its milk and how intolerant she was of any kind of formula.
"I told them I was all out of breast milk, and she was just too little to lose weight, and they agreed to take her as a client if my pediatrician would write a prescription for the milk."
A three-week supply arrived the next day.
"She started drinking that, and she was fine," says Jackson. "Between the milk from Austin and another friend who gave us milk twice, she was on breast milk for 6 months -- until her immature system could finally digest soy milk formula, and she was never sick, not even one time. Everyone else in the family was sick two or three times last winter, and Lilly was never sick. I believe it was because she had 'super milk' with antibodies from about six different moms."
Milk from four to six different donors, who aren't paid, is combined for each batch prepared by the MMBA in order to get a wide variety of antibodies, protein and fats before it is pasteurized, tested for bacteria, bottled, frozen and shipped out.
"Some people thought it was a little weird," Jackson recalls. "At one point, someone commented that she had a problem even thinking about her baby taking bodily fluids from someone else. I said what about taking bodily fluids from a cow?
"Once you explain to people all the benefits your baby gets from breast milk, they understand."
Lilly is now a healthy, happy toddler who weighs almost 18 pounds and eats everything she is offered.
"I hope people will look at Lilly and say, 'I want my baby to look like that -- and eat like that.' Yesterday, my husband sliced up a banana and put it on her highchair tray where she could reach it, then turned around to get her some cereal. Before he could turn back around, she had eaten the whole banana."
Copyright 2018 The Lawrence Journal-World. All rights reserved. This material may not be published, broadcast, rewritten or redistributed. We strive to uphold our values for every story published.