Austin, Texas — Missouri coach Quin Snyder felt like a sprinter who had a bad start. And once No. 4 Texas got rolling, there was no catching the Longhorns.
Brandon Mouton scored 20 points, and T.J. Ford sparked Texas' key second-half run as the Longhorns pulled away for a 76-55 victory Saturday against No. 21 Missouri.
Texas (13-2 overall, 4-0 Big 12) recorded its eighth straight win to remain unbeaten at home this season.
Texas outshot the Tigers 44 percent to 37 percent, forced 16 turnovers and outscored Missouri's bench 22-0. The Longhorns held the Tigers to just nine points over the final nine minutes.
The Longhorns led by 14 at halftime and found the extra gear they needed in the second to snuff a Tigers rally.
"It gets really hard when you spot someone 20 yards in the 100-yard dash," Snyder said. "After a while, you keep banging and you still find yourself down by eight or 10."
Ford took the game over just as Missouri was catching up.
He scored six straight points in a burst that broke open a tight game and finished with 15 points, six rebounds and four assists.
"He had great vision today," Texas coach Rick Barnes said. "When he gets going in transition, he's hard to stop."
Ricky Clemons scored 16 points to lead Missouri (11-4, 2-2), which has lost three of its last four.
Playing his first game away from home since being arrested Jan. 17 on charges of choking a woman, Clemons was taunted throughout the game by Texas fans who chanted "Rick-ee! Rick-ee!" and waved printed copies of his police arrest photo.
"The road is the road," Snyder said. "It's always going to be tough no matter where it is."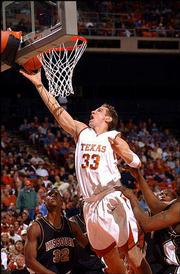 No. 7 Oklahoma 67, Baylor 54
Waco, Texas -- Kevin Bookout scored a season-high 18 points and had nine rebounds as Oklahoma earned its 17th straight win against Baylor.
After the Bears (9-7, 0-5) pulled within 38-36 early in the second half, Hollis Price keyed two straight baskets for the Sooners (13-3, 4-1), and Baylor never got closer.
Price finished with 17 points and five assists. Johnnie Gilbert had 10 rebounds for the Sooners, who had a 40-22 rebounding margin and outscored Baylor 42-12 in the paint.
Bookout, a freshman who has started every game for the Sooners, had 14 points and seven rebounds by halftime.
John Lucas led Baylor with 15 points, and Carlton Dotson had 10, all in the first half.
Kelvin Sampson earned his 200th win in nine seasons at Oklahoma, matching Bruce Drake's 200 wins from 1939-55 for the second-most at the school. Billy Tubbs, who was a television analyst for the game, won 333 games in 14 seasons before being replaced by Sampson.
Iowa State 71,
Nebraska 61
Ames, Iowa -- Jake Sullivan scored 18 of his 23 points in the first half, and Iowa State blocked a Big 12-record 17 shots.
Tim Barnes broke out of a 5-for-31 shooting slump in league games to score 17 points for Iowa State (11-5, 1-4), while Jackson Vroman added 10 points, nine rebounds and eight blocks.
Nate Johnson led Nebraska (9-9, 1-4) with 17 points and Corey Simms scored 13, all but one in the first half.
Iowa State broke the Big 12 record of 15 blocks set by Nebraska against Coppin State on Dec. 6, 1996. The Cyclones had 14 of their blocks in the second half, when Nebraska made only eight of 31 shots. ISU's old school record had been 13 against Drake on Jan. 2, 1991.
Texas A&M; 79,
Kansas State 66
College Station, Texas -- Bernard King scored 18 points and had 11 assists to lead Texas A&M; past Kansas State.
King is 10 points away from overtaking Vernon Smith as the Aggies' all-time leading scorer. Smith scored 1,778 points from 1977-1981.
Antoine Wright led Texas A&M; (10-5, 2-2) with 24 points and 11 rebounds. Wright was 6-of-15 from the field, including 4-of-6 from three-point range, and made eight of 11 free throws.
Pervis Pasco led Kansas State (11-7, 2-3) with 13 points, and Matt Siebrandt added 12. Frank Richards had 11 assists against only one turnover.
Copyright 2018 The Associated Press. All rights reserved. This material may not be published, broadcast, rewritten or redistributed. We strive to uphold our values for every story published.