Baldwin — An instant classic is almost expected every time the Ottawa and Augusta boys basketball teams square off.
On Saturday, it was no different.
"You just knew," Ottawa coach David Grover said, "where this one was heading."
The championship game of the Baldwin Invitational featured two overtimes, 19 lead changes and countless heroics.
Augusta, though, pulled away victorious, 62-58 in double overtime, snapping Ottawa's 10-game winning streak and two-year tournament champion run.
Ottawa (11-2) had topped Augusta 59-58 in the championship game a year ago, and 69-67 in the 2001 tournament semifinals.
"It's been a good, friendly rivalry," Augusta coach Tony Taylor said. "They really make our team better."
Ottawa, fresh off a 91-72 shootout victory Friday over Anderson County, kept its offensive excellence going from the opening tip. Six minutes in, the Cyclones were already up 21-11, and looked poised to press Augusta right out of the Baldwin Junior High gymnasium in another high-scoring shootout.
But it went away in a flash.
"As hot as we were," Grover said, "we went dry just as fast."
It led to a 17-3 Augusta run, giving the Orioles a 28-24 lead. Ottawa trailed 31-30 at halftime.
While discouraged, Grover said he wasn't surprised to see Augusta battle back.
"We knew were weren't going to blow them out," Grover said. "They're too good of a team."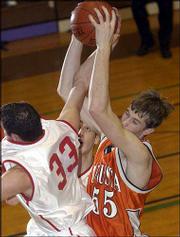 A back-and-forth second half deadlocked with 2:18 to play in the fourth, when Ottawa's Lee Baldwin hit a fast-break layup to knot the score at 49-49.
All through both overtimes, Augusta had Ottawa in check, but the Cyclones escaped nearly every time. A 53-49 Augusta lead in the first overtime turned to a 53-53 tie when the extra frame was finished.
Augusta (10-1), the defending Class 4A state champion, finally pulled away in the second extra period, behind clutch free-throw shooting and mental letdowns by Ottawa.
"We got really careless," Grover said, "but we still kept battling."
Ross Thompson led the Cyclones with 14 points and seven rebounds, despite being surrounded by Augusta's smothering zone defense all night.
Augusta (10-1) was led junior standout Jake Sims. The 6-foot-5 Sims dazzled the packed gym with three-pointers and clutch shooting when his team needed it most. He finished with a game-high 22 points.
"He's got such a smoothness about him," Taylor said. "He's a wonderful player."
Andrew Maxwell added 13 points for Ottawa, which will play host Friday to Santa Fe Trail.
But, like the two meetings before Saturday's, neither team will forget about this showdown for quite some time.
"This game is going to do more for us in the long run," Grover said, "than any of our last 10 wins."
Thompson, Maxwell and Baldwin were all named to the 10-player all-tournament team.
They joined two other area players on the team -- Baldwin's Andy Hannon and Mill Valley's Jacob Eaton.
Copyright 2018 The Lawrence Journal-World. All rights reserved. This material may not be published, broadcast, rewritten or redistributed. We strive to uphold our values for every story published.