"Love is Sweeping the Country" is the title of a melody written many years ago by Rodgers and Hart.
The U.S. Postal Service has been playing this love theme by portraying it on its stamps regularly since 1973. And the 2003 program continues in a heartbeat with a special stamped envelope featuring a love theme released Saturday.
It follows more than 25 designs that have appeared on U.S. stamps and envelopes since the first "Love" stamps of 30 years ago. The first one had a denomination of 8 cents and portrayed an iconic design by pop artist Robert Indiana.
The new stamped envelope design depicts a silhouetted gardener watering plants to represent the nurturing quality of love. The gardener, wearing tall boots and a sun hat, waters two plants that respond to his tender care by reaching up and creating a heart with their curving stems.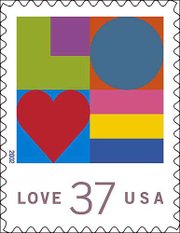 U.S. stamps in their continuing love story, have pictured swans, Victorian lace, modern art, flowers, animals, cherubs and love letters.
Last year the Postal Service released two additions to the love series -- a 37-cent stamp and a 60-center showing an abstract design. The 37-cent denomination is good for the first class 1-ounce letter rate, and the other, at 60 cents, is for mailing heavier items such as wedding invitations and RSVPs.
Copyright 2018 The Associated Press. All rights reserved. This material may not be published, broadcast, rewritten or redistributed. We strive to uphold our values for every story published.