Caracas, Venezuela — Hundreds of thousands of Venezuelans marched Thursday through Caracas to pledge their loyalty to President Hugo Chavez and protest a 53-day-old strike intended to unseat him.
An explosion near a subway station a block from the march killed one person and injured 14, Fire Chief Rodolfo Briceno said. The cause of the blast wasn't immediately known.
Buses from across the country -- swathed with red banners and red, yellow and blue Venezuelan flags -- poured into the capital for the show of support for Chavez. Briceno estimated the number of demonstrators at more than 300,000.
"Ooh! Ah! Chavez isn't leaving!" demonstrators chanted as they snaked onto a highway, headed for a downtown rally.
The outpouring of support marked the 45th anniversary of the fall of the country's last dictator, Gen. Marcos Perez Jimenez. It also came a day before the first meeting of the "Group of Friends," six nations that have offered to help Venezuela find a way out of its crisis.
The meeting will consider two plans presented this week by former U.S. President Jimmy Carter to end the strike and have early elections.
Chavez said late Wednesday he welcomed international help but warned against outside intervention in Venezuela's internal affairs. He urged the group -- Brazil, Chile, Mexico, Portugal, Spain and the United States -- to recognize that his is an elected government and to not give equal weight to what he calls a coup-plotting opposition.
Diplomats from the six nations were to meet today at the Washington headquarters of the Organization of American States with OAS Secretary General Cesar Gaviria.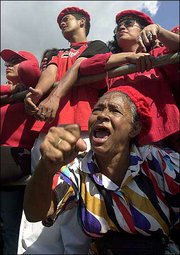 Copyright 2018 The Associated Press. All rights reserved. This material may not be published, broadcast, rewritten or redistributed. We strive to uphold our values for every story published.