Washington — The government received twice as many complaints about identity theft last year over 2001, with victims reporting hijacked credit cards, drained bank accounts and tarnished reputations.
"This is a crime that is almost solely on the shoulders of the victim to resolve," said Beth Givens, director of the Privacy Rights Clearinghouse, a San Diego-based consumer group. "They're beleaguered, they're tired, they're angry and it takes them a good deal of time to recover."
The number of identity theft complaints rose from about 86,000 in 2001 to about 162,000 last year, the Federal Trade Commission said Wednesday. The figures come from a government database of 380,000 fraud complaints collected by the FTC, the FBI and scores of law enforcement and consumer groups.
Identity theft accounted for 43 percent of the complaints, topping the government's list of consumer frauds for a third-consecutive year. Gripes about fraud in Internet auctions ranked No. 2 and accounted for 13 percent of complaints.
Up to 700,000 people in the United States may be victimized by identity bandits each year, the Justice Department says. It costs the average victim more than $1,000 in expenses to cope with the damage to their accounts and reputations, the FTC has said.
For 40-year-old Alexandra May of Cupertino, Calif., recovery has taken about five years.
The office equipment saleswoman said that in 1997 a woman who looked nothing like her obtained a duplicate of her driver's license from a local department of motor vehicles office. With the license, the woman stole $4,000 from May's bank account and sullied her records with an accident and the theft of a rental car.
"I went to rent a car a few months later and was almost arrested," May said.
Privacy advocates advise consumers to protect themselves from identity theft by checking their credit reports twice a year, shredding personal documents before throwing them away and cleansing wallets of old receipts and printed Social Security numbers.
Howard Beales, chief of the FTC's Bureau of Consumer Protection, said complaints about identity theft had increased along with greater public awareness of the problem, prompted by the agency's efforts and recent high-profile identity theft cases. In 2001, the FTC began promoting a dedicated Web site and toll-free phone number for victims.
"What we're seeing increasingly is identity theft because some insider steals information and sells it," Beales said at a news conference.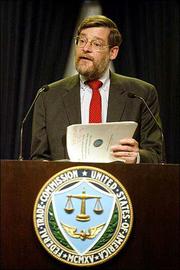 Copyright 2017 The Associated Press. All rights reserved. This material may not be published, broadcast, rewritten or redistributed. We strive to uphold our values for every story published.