Austin, Texas — Texas coach Jody Conradt spent a week dismissing the 800-victory milestone as another step in the quest for a Big 12 championship.
But when it finally happened, she couldn't avoid being caught up in the moment.
Conradt became just the second women's basketball coach to win 800 games Wednesday night when the 17th-ranked Longhorns beat No. 7 Texas Tech, 69-58.
Maybe it was the emotion of greeting dozens of former players who came to see her win. Or maybe it was the bucket of confetti dumped on her head.
Whatever it was, Conradt finally embraced just what it meant to be in the game long enough to win 800 times.
"If there ever was an occasion that was about team, it's this one, because 800 times, young women just like these have gotten on the court and fought for the University of Texas and come out victorious," she said.
Stacy Stephens had 16 of her 20 points in the second half, and Heather Schreiber had 15 points and a career-high 15 rebounds as Texas (12-4, 5-0) snapped Tech's 15-game winning streak and stayed in first place in the conference.
Conradt joined Tennessee's Pat Summitt (802) as the only women's coaches in the 800-victory club. Summitt got in Jan. 14 with a win over DePaul.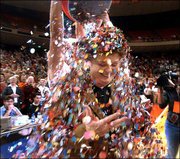 The 61-year-old Conradt is 800-262 in 34 seasons, with one national championship. She and Summitt started the season tied at 788 wins.
After the final buzzer sounded, Stephens dumped the water bucket full of confetti on her coach's head, the crowd chanted "Jody, Jody, Jody," and Longhorns players mugged for courtside television cameras.
"Texas Tech is always a formidable foe," said Conradt, who in 1988 got her 500th win in a game against the Red Raiders. "But this is Texas' night and we're going to celebrate."
Baylor 66, Texas A&M; 49
Waco, Texas -- Steffanie Blackmon scored 17 points and grabbed 10 rebounds to lead Baylor. Sophia Young and Dionne Brown added 14 and 13 points in the victory. Baylor (13-3, 2-2 Big 12) opened the second half with a 13-4 run to take a 42-22 lead and put the game out of reach. Toccara Williams led Texas A&M; (8-8, 1-4) with 13 points. Janae Derrick added 11 points.
Missouri 65, Nebraska 53
Columbia, Mo. -- Stretch James scored a career-high 18 points and Evan Unrau had her sixth double-double of the season as Missouri defeated Nebraska. James had three assists, two blocks and two steals for the Tigers (8-7, 2-2), while Unrau scored 11 points and had 12 rebounds. Kerensa Barr added 11 points, and Melanie Fisher scored 10 for Missouri, which had 13 steals. Alexa Johnson led Nebraska (7-8, 0-4) with 15 points.
Colorado 64, Okla. State 50
Stillwater, Okla. -- Tera Bjorklund scored 14 points and Colorado had four players finish in double figures. Sabrina Scott had 13 points and 12 rebounds for Colorado (14-2, 4-1 Big 12). The Buffaloes have won three in a row and 11 of their past 12. Veronica Johns-Richardson finished with 12 points and Kate Fagan had 10. Colorado held Oklahoma State (5-11, 1-4) to 35.6 percent shooting from the field. The Cowboys, coming off a 50-point loss to No. 7 Texas Tech, also committed 21 turnovers.
Copyright 2018 The Associated Press. All rights reserved. This material may not be published, broadcast, rewritten or redistributed. We strive to uphold our values for every story published.