A wedding reception Tuesday night in Lawrence had a barbershop quartet, catered pastries and more than 100 guests.
"Congratulations from all of us. Just married," read a sign on a grand piano next to a donation bowl with a few dollars in it.
No one seemed to mind that the bride and groom -- J.B. Watkins and Elizabeth Miller Watkins of Lawrence -- have been dead for decades.
The reception at Watkins Community Museum of History, 1047 Mass., was a local historical group's way of raising awareness of Elizabeth Watkins, a philanthropist whose donations helped shape Kansas University and Lawrence.
Tuesday would have been her birthday. To celebrate, Friends of Watkins Museum re-created another momentous day in her life: the day in November 1909 that she married wealthy, 64-year-old Jabez Bunting Watkins.
Gayle Matchett, a Friends of Watkins member who came up with the event, said her goal was for guests to have fun.
Matchett handed out chocolate bars that looked like $100 bills, a tribute to Mr. Watkins' profession as a banker. Members of a local acting troupe dressed up in period clothing. A stereo played "Barney Google," "Yes, We Have No Bananas," and other old-time songs.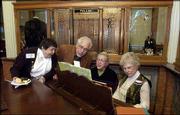 The bowl on the piano was there to collect donations for museum renovations. The museum features exhibits about the social and cultural history of Lawrence and Douglas County.
Matchett said she planned to celebrate another event from Watkins' life next year.
"I just wish the town knew more about its own history," she said.
At the time of the wedding, Mr. Watkins was described by a newspaper as "probably the best-known financier in Kansas." His bride was 16 years his junior and had worked as his clerk and assistant for many years.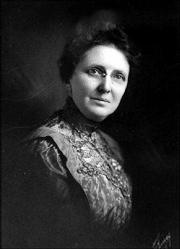 Even if the two had been alive, they wouldn't have shown their faces at the museum last night. According to newspaper reports, they married secretly in New York.
When her husband died 12 years later, Mrs. Watkins inherited a lot of money, and she began giving it away.
She gave money to build Watkins and Miller Scholarship Halls at KU and donated $100,000 for a 50-bed city hospital.
She gave her husband's former bank building to the city. It became City Hall, and today it houses the museum that's bears her name.
"The women are often overlooked," Friends of Watkins board member Grace Marion said Tuesday night. "After he died, she's the one that shared all the money."
Copyright 2018 The Lawrence Journal-World. All rights reserved. This material may not be published, broadcast, rewritten or redistributed. We strive to uphold our values for every story published.