Whether inside or outside, by feathery jumper or violent slam dunk, Keith Langford has been scoring points in bunches this season.
"I am a scorer, but I'm not scoring like I'm capable of by any means," Kansas University's 6-foot-4, 205-pound sophomore shooting guard said. "I feel capabilitywise I can get a shot every time I touch the ball, (but) it's not my role to get the ball and score every time."
Yet Langford, who has 263 points in 16 games, is making the most of his 11.4 shots per contest. Hitting at a 57.1 percent rate, Langford is producing more as a sophomore than some of the heavy hitters in KU history.
If the season ended today, Langford's 16.4 points per game would surpass the sophomore scoring marks of recent Kansas sophomores Paul Pierce (16.3), Drew Gooden (15.8), Nick Collison (14.0) and Raef LaFrentz (13.4).
Langford's mark would rank right behind Danny Manning's 16.7 scoring clip as a sophomore, but ahead of standouts like Darnell Valentine (16.1), Mark Randall (16.0) and JoJo White (14.8). He still would trail the likes of Bud Stallworth (16.9), Clyde Lovellette (22.8), Walt Wesley (23.5), Dave Robisch (26.5) and Wilt Chamberlain (30.1).
"We have had some," KU coach Roy Williams said of high-scoring sophomores. "I go back and look at Raef, Paul and Drew. Those three come to mind, they could all really score. But Keith has a different ability.
"Keith has more of a slashing type of mentality than any perimeter player that size we've ever had. Paul could post people up, or Paul could shoot from outside. Paul could take people to 10 or 12 feet and jump over them, so he's the closest to what Keith is doing."
A Langford intangible is his great jumping ability. It has not only shown on the eight-footers in the lane, but also his vicious dunks, like the one he put home off a halfcourt lob pass from Kirk Hinrich in last week's Wyoming game.
Langford has had a lot of practice slamming; he's been able to dunk since his freshman year at North Crowley High outside of Fort Worth, Texas.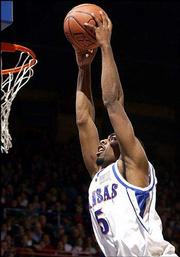 "In ninth grade, I told my mom I wanted to dunk. A lot of guys were dunking. She told me to do calf raises," Langford said. "I'd stand in the doorway of my room and do calf raises every night. Some days when I wouldn't do 'em she'd say, 'Keith, did you do your calf raises?' She stayed on me about it. Sure enough, it paid off."
Langford -- he did the calf raises "in sets of 100, until I couldn't do them any more" -- saw quick benefits. He dunked at practice his freshman year and had his first dunk in a game his sophomore season.
His dunk versus Wyoming was his best in college, he said, but not in his career.
"In high school, my teammate got a rebound and passed ahead to me. There was a guy chasing me. I went up on one foot and dunked. A guy tried to run under me," Langford said. "There's a picture in the Fort Worth paper. I am hanging on the rim with one hand, my feet touching the other side of the backboard."
Langford, who scored 14 points in Saturday's 81-64 win over Kansas State, sees no reason why he can't continue to produce the rest of this season -- sophomore slump be darned.
"My level of confidence has gone up since last year," said Langford, who averaged 7.9 points off 49.3 percent shooting his freshman season. He hit 11 of 41 three-pointers last year compared to 11 of 32 this season.
"I feel a lot more comfortable during the game. The confidence the coaching staff and players have in me has helped," he said. "When you have that type of supporting cast, it helps. Also I work on my game a lot. All of it has come together."
The Jayhawks will meet Colorado at 8 p.m. Wednesday in Boulder, Colo.
Copyright 2018 The Lawrence Journal-World. All rights reserved. This material may not be published, broadcast, rewritten or redistributed. We strive to uphold our values for every story published.