Baghdad, Iraq — Top U.N. officials warned Iraq on Saturday that it was running out of time to cooperate and avoid war, and arms inspectors examined the type of mobile lab the United States says could be used to make biological weapons.
One inspection was scrubbed after Iraqi officials insisted on following a U.N. team by helicopter into the northern "no-fly" zone from which Iraqi aircraft are banned, the United Nations said.
America's top general, meanwhile, said Iraq still had time to come clean about its banned weapons programs and avoid an attack.
Protesters rallied by the tens of thousands Saturday in Washington and in fewer numbers in other cities to demand that the United States back down from the threat of war.
With Washington increasing pressure on Iraq, U.N. teams visited at least six locations Saturday, including Trade Ministry food warehouses in central Baghdad. The team examined at least two refrigerator trucks and a trailer, which the site manager, Nawal Nafa'a Fotohi, said were mobile food-testing laboratories.
Such labs are of particular interest because U.S. intelligence officials believe Iraq may want to develop mobile "fermentation units" to manufacture biological weapons. U.N. officials had said inspectors would be looking for biological weapons laboratories on trucks.
Fotohi insisted the labs were used to make sure government food rations were safe. Inspectors would not say if they found anything suspicious.
"We are not afraid of anything and we have nothing to hide," Fotohi said.
Another team revisited a site south of Baghdad where inspectors on Thursday found 12 empty chemical weapon warheads. The Iraqi Foreign Ministry, in a statement accounting for the inspectors' daily activities, said the purpose of the return visit was to tag the warheads.
The U.N. team said a group of missile inspectors gathered at an air base Saturday to fly to a site in northern Iraq. The team canceled the mission "for safety reasons due to the insistence by the Iraqi side to fly their helicopter into the no-fly zone following (U.N.) helicopters," a statement said.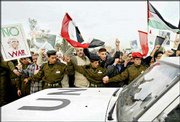 U.S. and British jets patrol no-fly zones in the north and south of the country to protect Iraqi Kurds and Shiite Muslims. A U.N. official, speaking on condition of anonymity, described the Iraqi attempt as "indirect interference" in the inspections.
Other teams visited Baghdad University's science college and the University of Kufa, 125 miles south of the Iraqi capital, according to witnesses and Information Ministry officials.
Inspectors also visited the Al-Tuwaitha complex, nine miles south of Baghdad, which was at the heart of Iraq's former nuclear program, and the chemical and explosives QaQa Co., 16 miles south of Baghdad.
The U.N. teams returned to Iraq in November after a four-year hiatus to determine if President Saddam Hussein had weapons of mass destruction.
Saddam denies Iraq still has such weapons, which were banned at the end of the 1991 Gulf War. The United States and Britain do not believe him and have threatened to disarm Iraq by force if he does not give up those weapons.
The United States and Britain are moving ships, planes and tens of thousands of troops to the Gulf to reinforce warnings to Baghdad.
Top U.N. inspectors Hans Blix and Mohamed ElBaradei were to travel to Baghdad today to warn Iraq that time is running out. They will report to the U.N. Security Council on Jan. 27.
Copyright 2018 The Associated Press. All rights reserved. This material may not be published, broadcast, rewritten or redistributed. We strive to uphold our values for every story published.