Hartford, Conn. — Connecticut made women's basketball history Saturday -- then celebrated as if it won a national championship.
The third-ranked Huskies got 22 points from All-American junior Diana Taurasi and overcame a poor first-half shooting performance in a 72-49 win over Georgetown for their 55th straight win, surpassing the mark set by Louisiana Tech from 1980-82.
With 30 seconds remaining, the crowd of 16,294 at the Hartford Civic Center began a standing ovation that lasted well after the final buzzer. The team gathered midcourt and received T-shirts and caps marking the milestone victory. Taurasi and teammate Jessica Moore tossed their gifts into the crowd.
"We're the first team ever to do it," Taurasi said. "I think it feels great, and now we can put it behind us. I think we set a new standard of play."
For a program that has dominated the sport for the last five years, it seemed like breaking the Techsters' record would be only a matter of time.
UConn went 39-0 and won its third national title in seven years last season. The Huskies' last loss was on March 30, 2001, a 90-75 setback to eventual national champion Notre Dame in the NCAA semifinals.
"Winning 55 in a row, that's pretty special in any sport," Taurasi said. "It ranks up there. A little bit behind the national championship, but it's up there."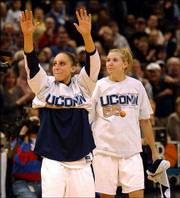 Now that UConn has the record, it could be in jeopardy quickly. The Huskies play Monday at No. 21 Notre Dame and travel Feb. 1 to Durham, N.C. to play top-ranked Duke.
UCLA holds the Division I men's record with an 88-game winning streak from 1971-74.
In the past three seasons, the Huskies have a 123-4 record under coach Geno Auriemma, now in his 18th year. Auriemma, who has had a migraine headache since Friday, left immediately after the game and did not attend the postgame news conference.
Assistant coach Jamelle Elliot, a member of UConn's 35-0 national championship team in 1995, said the pressure to keep winning is much greater now.
"For these kids to come here now, because of the spotlight that this program has, you're expected to win every day," Elliot said. "That's a whole lot of pressure for a 17- or 18-year-old. My hat's off to them."
UConn (16-0, 4-0 Big East) led from the outset Saturday, and the Hoyas (11-3, 2-2) couldn't get closer than nine points in the second half.
Copyright 2018 The Associated Press. All rights reserved. This material may not be published, broadcast, rewritten or redistributed. We strive to uphold our values for every story published.