CHAPEL HILL, N.C. — Many people wrote off North Carolina three weeks ago when the Tar Heels lost center Sean May with a broken foot.
It might be time to re-evaluate.
Rashad McCants scored 27 points, including the clinching free throws with 3.3 seconds left, as the Tar Heels beat No. 6 Connecticut, 68-65, on Saturday, becoming the second program in college basketball to win 1,800 games.
Kentucky, with 1,830 wins, is the other.
"I have a lot of respect for the way their kids played," Connecticut coach Jim Calhoun said of the young Tar Heels. "Their kids played hard. I watched a couple of tapes of them, and I don't think they stayed with it as long. They stayed with it tonight when we came back at them. That's a credit to them."
The Tar Heels now are 4-2 without May, winning three by four points or less.
"We certainly miss Sean, but when he comes back we're going to be that much better," said UNC coach Matt Doherty, a former Kansas University assistant.
No. 2 Arizona 87, UCLA 52
Los Angeles -- Salim Stoudamire scored 19 points and Arizona defeated hapless UCLA to complete its first sweep of the Los Angeles schools in 10 years. The Wildcats (13-1) won their eighth in a row and remained atop the Pac-10 with a 6-0 record.
No. 3 Pittsburgh 73, No. 25 Syracuse 60
Pittsburgh -- Julius Page scored 25 points and Chevy Troutman came off the bench to add 23 as Pitt relied on inside scoring to beat Syracuse. The Panthers, starting 14-1 for the second straight season, improved to 4-0 for the first time in 21 Big East seasons and ended Syracuse's 11-game winning streak.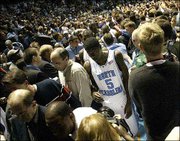 No. 6 Florida 77, South Carolina 75
Columbia, S.C. -- Matt Bonner scored 19 points, including a driving dunk with 35.3 seconds left, as Florida won its 11th straight game. Matt Walsh had 17 points, eight rebounds and six assists, and Bonell Colas had a career high 16 points off the bench for the Gators (15-2, 4-0 Southeastern Conference). Tony Kitchings and Kerbrell Brown each had 22 points for South Carolina (7-7, 1-3).
No. 18 Indiana 74, No. 8 Illinois 66
Bloomington, Ind. -- Jeff Newton scored a career-high 28 points and had eight rebounds to lead the Hoosiers (13-3, 3-1 Big Ten). Brian Cook, Illinois' leading scorer, finished with 15 points, 10 fewer than his average, before fouling out with 4:59 to go. Freshman Dee Brown had 18 to lead the Illini (12-3, 2-2).
Auburn 77, No. 9 Alabama 68
Auburn, Ala. -- Reserve Brandon Robinson had 13 points and seven rebounds to lead surprising Auburn over struggling Alabama. The Crimson Tide (12-3, 2-2 SEC) has lost three of their last five games after being ranked No. 1 earlier this season. Auburn (15-2, 4-0) jumped to a quick 8-0 lead and dominated Alabama most of the game.
No. 16 Kentucky 88, No. 10 Notre Dame 73
Lexington, Ky. -- Chuck Hayes had 17 points, 16 rebounds and five assists -- all career highs -- to lead Kentucky. Marquis Estill scored 14 of his 18 points in the second half for the Wildcats (13-3), who beat the Irish for the ninth straight time. Matt Carroll scored 29 and Chris Thomas added 14 for Notre Dame (14-3).
No. 13 Creighton 85, Southern Illinois 76
Omaha, Neb. -- Kyle Korver had 24 points and 11 rebounds to help Creighton overcome a 13-point deficit. Korver's fifth three-pointer gave the Bluejays (15-1, 6-0 Missouri Valley) a 65-62 lead. Jermaine Dearman led the Salukis (10-4, 5-1) with 18 points.
No. 15 Louisville 87, TCU 74
Louisville, Ky. -- Marvin Stone had 22 points and eight rebounds as Louisville won its 11th straight. Reece Gaines added 20 points and eight assists, but he also had six turnovers as the Cardinals (12-1) looked a bit sloppy after a late Thursday game at East Carolina. Louisville turned the ball over 23 times.
No. 20 Georgia 81, Arkansas 64
Fayetteville, Ark. -- Ezra Williams scored 19 points, and Georgia held Arkansas to 15 first-half points. Jarvis Hayes added 15 points for Georgia (10-4, 2-1 Southeastern Conference), which won at Arkansas for the first time in six meetings.
No. 21 Marquette 67, Charlotte 64
Charlotte, N.C. -- Dwyane Wade scored 20 points and Marquette won its first game in Charlotte with a victory over the 49ers. The Golden Eagles (12-3, 4-1 Conference USA) were 0-8 in Charlotte and played most of the game as if they would remain winless there
No. 22 Oregon 79, Oregon State 68
Eugene, Ore. -- Luke Ridnour and Luke Jackson combined on a second-half surge that gave Oregon a victory over Oregon State. The Ducks (12-4, 2-3 Pac-10) struggled in the first half, but led by as many as 12 in the second. Ridnour had 28 points, 19 in the second half, and 11 assists, while Jackson finished with 19 points. Oregon State (7-7, 0-5) has lost five straight under first-year coach Jay John. The Beavers were paced by Philip Ricci with 24 points and 11 rebounds.
Mississippi 67,No. 23 LSU 57
Baton Rouge, La. -- Aaron Harper scored 10 of his 16 points in the final eight minutes to lead Mississippi to the victory. Jaime Lloreda scored 14 points and Ronald Dupree had 12 points and 12 rebounds to lead LSU (12-3, 1-2 SEC), which made just one field goal over the final 9:52. Ole Miss (10-4, 1-2) shot 50 percent and held the Tigers to 28 percent shooting in the second half.
Copyright 2018 The Associated Press. All rights reserved. This material may not be published, broadcast, rewritten or redistributed. We strive to uphold our values for every story published.