A stage hand. That may be the best way to describe Serologicals Corp., the Atlanta-based firm that announced last month it had chosen Lawrence as the site for a new manufacturing facility expected to open in the first half of 2004.
The company is not a star of the pharmaceutical and biotech industries, but rather spends its time behind the scenes -- making goods that other companies use to make products used by doctors, laboratories and drugstore shoppers.
"We like to call ourselves an enabling company," said Bud Ingalls, the company's chief financial officer. "We don't want to produce the final product but we do want to produce the tools for other people to do that."
That means people may come in contact with Serologicals' work more often than they realize. The company makes components or additives that are used in a wide variety of recognizable products. For example, the company is a major player in the business of making kits that test blood types and test for HIV.
Its products also are used in drugs that treat rabies and Hepatitis B. And most recently, the company signed a major agreement to be a key supplier in the manufacturing of a drug used to treat people who either have been exposed to small pox or have an adverse reaction to the small pox vaccine. The contract is the first of several related to homeland security that Ingalls said the company was "aggressively pursuing."
But at the end of the day, Serologicals Corp. isn't likely to be one of the pharmaceutical industry's headliners, like a Pfizer or a Johnson & Johnson.
Ingalls said that was just fine with company officials, because it also means the company is less likely to be an Imclone, the pharmaceutical firm that staked its future on one cancer-fighting drug and then saw its stock price and its future plummet when the drug didn't receive FDA approval.
"We decided quite a while ago that we're not going to be dependent on any one drug for our future success," Ingalls said. "We're not going to bet our future like that. We think it is too risky."
Ex-Cyted about Lawrence
Serologicals officials say they're excited about a product called Ex-Cyte.
Sales of the product, which is used in the manufacturing process of certain biotech drugs, increased by 90 percent to $23.5 million during the first nine months of 2002.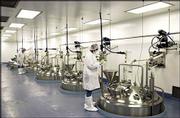 "Ex-Cyte is really one of, if not the key, growth driver of this company," Ingalls said. "We think it will be our growth driver for quite a while."
That should be music to the ears of Lawrence residents. That's because the company's planned $28 million facility in East Hills Business Park is designed to become the company's largest Ex-Cyte production facility.
The company already has one Ex-Cyte plant in Kankakee, Ill., a suburb of Chicago, but it is running at 100 percent capacity.
"This (Lawrence) plant is extremely important to us and our customers," Ingalls said. "We've had discussions with our customers and we know their demand for Ex-Cyte is going to increase substantially."
That's why Serologicals officials want to start work on the plant as soon as possible. A ground-breaking ceremony has been scheduled for Jan. 29, one day after the company hopes the Lawrence City Commission approves a 10-year, 80 percent tax abatement for the project.
The plant is expected to employ 40 people and pay an average wage of $47,000 a year. Lawrence was chosen as the location for the project after the company looked at 30 other cities in the Midwest.
Officials cited the presence of Kansas University and a growing life sciences industry in the Kansas City area as factors in their decision.
Ingalls said the company thus far had been happy with its decision. In fact, it's already thinking about possible expansion plans for the Lawrence plant.
When it is completed in the first half of 2004, the Lawrence plant will be 40,000 square feet, but the company has designed it to accommodate three additional phases that would add 70,000 square feet of manufacturing space.
Ingalls said the plans were more than just lines on a piece of paper.
"We're very definitely going to be looking at expansion once we're finished with the first phase," Ingalls said.
Serologicals has said it could foresee its Lawrence work force growing to 60 people in a matter of a few years, but Ingalls said the long-term possibilities were even larger.
"We would hope that we see significantly more employment in Lawrence in the coming years," said Ingalls, although he declined to speculate on how much. "We think what we're doing in Lawrence is just a start here.
"I guarantee you that the Lawrence plant won't be a plant that we just put up and forget about. It is a plant we hope to develop into a larger scale environment."
The expectations are all part of the company's overall strategic plan that calls for the company to grow its revenues from $100 million to $500 million in the next five years.
"We've set some pretty aggressive growth goals," Ingalls said.
A miracle grow
It is only appropriate that the company expects its Ex-Cyte product to fuel growth -- spurring growth is what Ex-Cyte is designed to do.
Serologicals officials often describe the product as a type of "Miracle Grow" for the pharmaceutical industry. In simplified terms, Ex-Cyte is bought by companies that manufacture certain types of biotech drugs, which are drugs that use live cells in their development.
The reason they buy the product is that it significantly speeds up the drug manufacturing process.
"We have demonstrated that it can reduce the development times by 60 to 70 percent," Ingalls said.
In the pharmaceutical business, time is definitely money, which is one of the major reasons Ex-Cyte has grown in popularity during the past two years.
"When we show people how much time it can save them, it does open a lot of eyes in the industry," Ingalls said.
Ex-Cyte is made of livestock blood. The fact that Lawrence still has a relatively large number of slaughterhouse operations within a day's drive was a factor in Lawrence's selection as well, said Robert Gowin, Serologicals director of project management.
Serologicals uses livestock serum, a fluid obtained when the solid and liquid parts of blood are separated, as the main raw material in the production of Ex-Cyte.
Once the Lawrence plant is built, Gowin said, the facility will have a steady flow of trucks delivering livestock serum to the plant. The plant will contain about $8 million worth of equipment designed to filter the serum to make it more pure and to mix proteins and other additives to the serum to eventually create Ex-Cyte.
Because of the technical nature of the process, Gowin said, the plant is expected to have a high demand for employees with degrees in biology, chemistry, pharmacy and bio-sciences. He said the company likely wouldn't begin hiring employees until late this year.
Thus far, Serologicals is the only company in the industry producing a product like Ex-Cyte. It's main competition is from companies that produce a more traditional bovine serum that isn't as highly filtered.
"We feel very comfortable with our competitive position," Ingalls said. "Our challenge now is just to get more of our customers to try it."
Troubled times
It wasn't all that long ago that Serologicals didn't feel too comfortable about its outlook. The year was 1999 and the company, which is publicly traded on the Nasdaq, was struggling.
Its stock price lost 80 percent of its value during the year. There were questions about the company's accounting practices. Laboratory and quality issues forced the firm to stop shipping its primary plasma product for three months.
"We faced a number of challenges," Ingalls said.
Some were out of the control of the company. For instance, two unidentified European customers of the company had quality problems of their own and were unable to ship products for an extended period of time. That meant the amount of goods they needed from Serologicals was greatly reduced and the company's sales faltered. That led to the stock price fallout.
Other problems, though, were Serologicals' fault, Ingalls said. Particularly, the company's own quality-control problems were painful, forcing the company to stop shipping plasma products during the third quarter of the year.
"We had some quality-control issues," Ingalls admits. "We weren't as detailed as we needed to be in all the paperwork we needed to do."
The year produced major changes in the management of the company. Ingalls, David Dodd, the company's chief executive and president, and Sue Sutton-Jones, the company's head of quality control, all have been hired since 1999.
Ingalls said one of the first actions of the new management team was to change the direction of the company. Until 2000, Serologicals, which was founded in 1971, was primarily known as a company that collected and resold human plasma. The company still has 13 plasma collection centers across the country, but under Dodd's leadership the firm has tried to increase its presence in the biotech field.
How well the changes have worked is still an open question on Wall Street. The company isn't closely followed by major Wall Street analysts, but one analyst who does follow the firm on a regular basis has raised questions recently.
Martin Auster, an analyst with SunTrust Robinson Humphrey, downgraded the stock in October from outperform status to neutral status.
That came after the company cut its earnings guidance from about 77 cents per share to 65 cents per share for 2002.
In his report on the company, Auster said "it was hard to judge whether its problems were temporary," and that "management credibility concerns could pressure the stock for some time."
Auster, when contacted by the Journal-World, declined to further comment on the company.
Ingalls admits that 2002, although profitable, wasn't the best year for Serologicals. He said the company was expecting a recent purchase of a smaller biotech company to increase earnings more than it did, which led Wall Street to send its stock price down.
"We're still excited about our financial future," Ingalls said. "We have an experienced management team that has been put together recently, we have a very strong balance sheet, and the company has zero debt.
"And we actually have cash on hand and real earnings. There are a lot of companies in our industry that hope to have all those things, but we're actually there."
Copyright 2018 The Lawrence Journal-World. All rights reserved. This material may not be published, broadcast, rewritten or redistributed. We strive to uphold our values for every story published.