Philadelphia — Jon Gruden doesn't want to hear about the Tampa Bay Buccaneers' pathetic history in Philadelphia or their cold-weather failures.
"It's like it's 24-0 and we haven't even gotten off the plane yet," the Bucs' coach said as his team prepared for today's NFC championship game.
That's no surprise considering what's happened to the Bucs at Veterans Stadium, where Tampa Bay and Philadelphia meet in the final NFL game at the stadium.
Two years ago, Philadelphia won 21-3 in the wild-card round. Last year, it was 31-9 in Tony Dungy's last game as Tampa's coach.
Gruden did no better in his only foray here as coach of the Bucs: losing 20-10 on Oct. 20 in his return to the city where he was offensive coordinator from 1995-97.
Add that Tampa Bay never had won in temperatures below 40 degrees until beating the Bears 15-0 in Champaign, Ill., last month, and you have what some believe is a severe problem -- psychologically as much as physically -- for the Bucs.
Put these teams on a neutral field with perfect weather and they're pretty even.
Each finished 12-4 and won its division. The Eagles earned the right to stay home with an 11-1 record against NFC teams, while the Bucs went 9-3 in conference games. They were 1-2 in points allowed -- Tampa Bay leading the league at 12.3 per game, the Eagles second at 15.1.
Those inclined to place a wager don't think too much of Tampa Bay's problems up north -- the Eagles are favored by four points, one more than the usual home-field edge.
The relatively small spread might be the result of questions about Philadelphia quarterback Donovan McNabb, who played his first game last week after missing eight weeks because of a broken right ankle and led the Eagles to a 20-6 win over Atlanta.
McNabb was mobile enough, but he wasn't quite as sharp as he was before the injury, when he was an MVP candidate.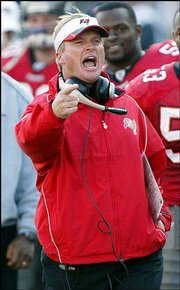 "I think I got rid of a little bit of rust," McNabb said. "There were some plays in the game that I felt I could have made better plays with. That's something I can definitely learn from this week."
The Bucs won their first playoff game easily, beating San Francisco 31-6. But that was at home, in warm weather and without the hostile fans, the slippery artificial turf and the frigid temperatures that have made the Vet a house of horrors for visitors.
Moreover, the only touchdown Tampa Bay has scored in three straight losses in the Vet was on defense -- a fumble return by Derrick Brooks in October.
Today's game could be a rarity, a defensive game in a playoff year which has featured scores like 34-31, 36-33 and 39-38. The Eagles scored just one offensive touchdown against the Falcons, and the Bucs picked on a depleted San Francisco secondary that had safeties playing cornerback.
Other than McNabb, most of the stars are on defense.
Three of Philadelphia's four starters in the secondary are going to the Pro Bowl. Four of Tampa Bay's defensive starters, led by Brooks, the league's defensive player of the year, are headed to Hawaii.
"The defense that plays the best on Sunday will win this game," Eagles' cornerback Troy Vincent said. "It won't come down to offense."
Both teams have recent losses in title games -- Tampa in 2000 and Philadelphia last year.
Gruden isn't worried about the turf, the forecast for biting cold or the 7-1 record of home teams in this year's playoffs.
"He's not going to let the fact that it's going to be 20 degrees mess with our heads," cornerback Dwight Smith said of his coach. "I love that."
Copyright 2018 The Associated Press. All rights reserved. This material may not be published, broadcast, rewritten or redistributed. We strive to uphold our values for every story published.