Washington — Larry Brown had no trouble finding material for his pregame speech before his Philadelphia 76ers played the Washington Wizards.
"I'm reading Washington's papers," the coach said. "They're 20-19 and really upbeat. We're 20-19 and, like, dying."
Philadelphia reversed both trends, at least for one day, as Allen Iverson scored 26 points in Saturday night's 88-80 victory. The 76ers are now 3-0 this season against the Wizards, a helpful stat in case the teams are tied again in April, although Philadelphia nearly blew a 14-point lead in the fourth quarter.
"I was trying to say: 'Hey, look at the bright side.' Then I look at the end of the game, and we don't have a lot of confidence," Brown said. "When you've got a great scorer in Allen, I think you should have confidence you're going to win the game in the end -- knowing he'll get it done."
Eric Snow matched his season-high with 19 points, and Keith Van Horn had 17 points and 11 rebounds for the 76ers, who won for only the second time in nine games.
Michael Jordan scored 25 points on 10-for-25 shooting, and he had seven points and two assists among constant double teams in the final five minutes as the Wizards cut the deficit to two. He dribbled out of a double team and hit a baseline jumper to close Philadelphia's lead to 82-80 with 1:26 to play.
But the Wizards didn't score again. Aaron McKie, fouled by Jordan while shooting, made two free throws to get the lead back to four. The Wizards then turned the ball over trying to feed a double-teamed Jordan in the post, McKie and Iverson each made two more free throws to close out the victory.
"I thought I got fouled," Jordan said. "But that's a player's thought, and that's a loser's thought, too. I can't pin everything on that one particular play. Give us some credit. We fought back, but not enough credit to say we won."
Clippers 112, Kings 107
Los Angeles -- Andre Miller made seven free throws in the final four minutes, including two with 35 seconds remaining that put Los Angeles ahead to stay.
The Clippers capitalized on a huge disparity in free throws. They went 38-of-46 from the line, including Miller's 10-for-10. The Kings shot only seven free throws, making five and were outscored 19-0 from the line in the fourth quarter.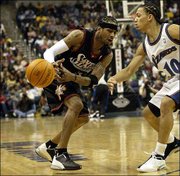 Heat 102, Bulls 101, 2 OT
Miami -- Brian Grant's layup with 7.6 seconds left in the second overtime gave Miami a victory against Chicago, which has lost 19 straight on the road. The Bulls had a chance win at the buzzer, but Jalen Rose's 22-foot jumper rolled off the rim.
Eddie Jones assisted on the decisive basket following a wild sequence of events after Grant missed two free throws with 16.6 seconds remaining and the Heat down 101-100.
Celtics 97, Bucks 95
Milwaukee -- Antoine Walker scored 25 points and Paul Pierce made a key jumper with 35.9 seconds left as Boston defeated Milwaukee for its third straight victory. Kedrick Brown added a career-high 14 points and 10 rebounds in his first start for the Celtics, who had lost eight of 10 before their modest winning streak.
Tim Thomas scored 22 points and Sam Cassell had 20 for Milwaukee, which had won a season-high five straight and six of seven. The Bucks also had beaten the Celtics at home seven straight times.
Jazz 95, Cavaliers 78
Salt Lake City -- Matt Harpring scored 22 points as Utah defeated Cleveland for its fourth straight win. Calbert Cheaney, who hadn't reached double figures in five games, added 13 points for the Jazz, who needed a big second half to send the Cavs to their fourth consecutive loss. It was the sixth home win in a row for the Jazz and their eighth victory in the last 10 games.
Ricky Davis scored 25 points, but had only three after halftime as the Cavaliers, playing for the second night in a row, couldn't sustain their intensity in the second half.
Timberwolves 104, Trail Blazers 98
Portland, Ore. -- Kevin Garnett had 31 points and 20 rebounds as Minnesota defeated Portland. Rod Strickland, a former Blazer, had 12 points and 10 assists for the Timberwolves, who won for the third time in four games. Wally Szczerbiak had 16 points off the bench. The Timberwolves took control of a close game early in the fourth with an 11-2 run.
Knicks 95, Hawks 92
Atlanta -- Clarence Weatherspoon scored a season-high 18 off the bench and Allan Houston added 24 as New York beat Atlanta. Jason Terry missed a three-pointer with a couple of seconds left that would've tied it.
Othella Harrington had all 12 of his points in the second half for New York, which won for only the second time in five games.
Glenn Robinson finished with 27 for the Hawks, who lost their fourth straight. They had won two in a row at home.
Pacers 88, Pistons 86
Indianapolis -- Jermaine O'Neal scored 17 points and hit the winning jumper as time expired to lead Indiana past Detroit. Officials reviewed the replay of O'Neal's shot for about 15 minutes before ruling it was good.
Officials Joe DeRosa, Jess Kersey and Courtney Kirkland studied the replay, talked with the coaches and then headed to midcourt for more discussion before making their decision.
Copyright 2018 The Associated Press. All rights reserved. This material may not be published, broadcast, rewritten or redistributed. We strive to uphold our values for every story published.