Call its 71-50 defeat at the hands of the Colorado Buffaloes a lost day for the Kansas University women's basketball team.
Playing host Saturday afternoon to the Buffaloes, the Jayhawks:
Often lost the CU players they were supposed to defend, leading to all-too-easy Buffalo points.
Lost track of where the rim was, hitting just 22 of 62 field-goal attempts, a 35.5 percent clip.
And, most importantly, lost their 20th consecutive Big 12 regular-season game.
"There were some things that were pretty obvious for everyone to see, and one of those was that we did not shoot the ball very well," KU coach Marian Washington said.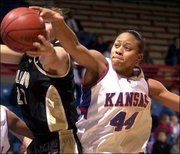 "We rushed a lot of shots, whether they were right under the basket or beyond 15 feet. We just hurried everything. Our defense, up until that last four minutes, was not as strong as it needed to be."
While Kansas struggled, Colorado was solid. The Buffaloes shot 61 percent in the first half, hit eight of 15 three-pointers overall and went on a 16-4 run to close the first half. CU led, 35-21, at the break.
Kansas (7-8 overall, 0-4 Big 12 Conference) had a team-high 13 points from Tamara Ransburg on 6-of-10 shooting, but nobody else was on the mark.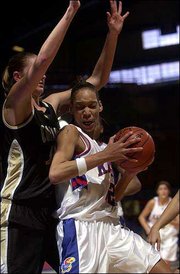 Sophomore Aquanita Burras, the team's leading scorer, missed her first nine shots. Sophomore guard Stacey Becker missed all seven of her shots.
"When you have shots that should go down and they don't, you lose a lot of steam," Washington said, "I thought our perimeter players had open looks, but they were rushing."
On the flip side, Colorado (13-2, 3-1) had easy, open looks all game. The Buffaloes, despite taking 16 fewer shots than Kansas, hit five more field goals. CU shot 59 percent from the field.
In one four-minute stretch in the second half, Colorado guard Kate Fagan hit four three-pointers on her way to a game-high 22 points.
"They have a good triple-post offense, and they know how to execute it very well," Kansas sophomore Blair Waltz said. "We got out of place and just lost players."
Oklahoma will visit Allen Fieldhouse on Wednesday. It will be the Jayhawks' next chance to try to bury the longest run of futility in the Big 12's short history. The last time they beat a conference opponent was Feb. 28, 2001, when they defeated Texas A&M;, 75-62.
Kansas players claim they're not about to give up.
"We're staying positive," Ransburg said. "It's against the rules to have anything negative to say in the locker room."
Copyright 2018 The Lawrence Journal-World. All rights reserved. This material may not be published, broadcast, rewritten or redistributed. We strive to uphold our values for every story published.